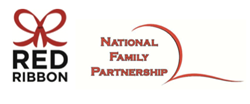 MIAMI, FL (PRWEB) November 15, 2016
Throughout October, in conjunction with the National Family Partnership's 31st Annual Red Ribbon Week®, families and schools decorated their homes and campuses to promote living healthy, drug-free lifestyles. Each decoration featured a red ribbon and this year's national Red Ribbon Week theme: "YOLO. Be Drug Free." Now they need your votes to win the grand prize: $1,000 for their school's drug prevention programs and an iPad® for their family or classroom. In total, $20,000 will be awarded throughout the United States.
The National Family Partnership's Red Ribbon Photo Contest, now in its sixth year, is co-sponsored by the Drug Enforcement Administration. The contest was created in an effort to prevent drug use and educate youth during Red Ribbon Week and beyond.
"This contest was designed to provide a natural opportunity for parents and educators to talk to kids about drug abuse and prevention in a relaxed and fun way," says Peggy Sapp, NFP President. "Everyone can to participate by voting for their favorite entry to help support families and schools in spreading the drug free message to children."
HOW TO VOTE
Voting deadline is November 17.

It's easy – go to http://redribbon.org/vote/ and decide which entry you feel best represents this year's theme: "YOLO. Be Drug Free™".
Voters may submit one (1) vote per 24-hour-period.
Twenty contestants will be announced 2017 National Red Ribbon Photo Contest winners on December 2, 2016.
To learn more about Red Ribbon Week, visit http://www.redribbon.org/ .
THE NATIONAL FAMILY PARTNERSHIP was established in 1980 and is a national leader in drug prevention, education and advocacy. Its mission is to lead our nation's families and communities in nurturing the full potential of healthy, drug-free youth. Red Ribbon Week is the nation's largest and oldest drug prevention campaign. NFP created the campaign in response to the 1985 abduction and murder of DEA agent Enrique "Kiki" Camarena. In addition to the Red Ribbon Campaign®, NFP sponsors the Lock Your Meds® Campaign to prevent prescription drug abuse. Learn more about Red Ribbon Week at http://www.redribbon.org and NFP at http://www.nfp.org/.