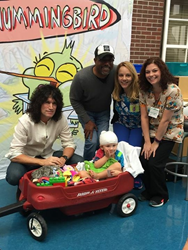 Charleston, South Carolina (PRWEB) November 15, 2016
KISS guitarist Tommy Thayer and country music star Darius Rucker on Monday announced the release of the Ernest Hummingbird storybook app and underscored their support of Children's Miracle Network Hospitals by donating the app to its 170 children's hospitals.
"Ernest Hummingbird is a heartwarming children's story of hope and inspiration," Thayer said. "Our wish is that all children will enjoy the storybook and have fun singing-along with Ernest."
At Medical University of South Carolina's (MUSC) Children's Hospital on Monday, Thayer and Rucker, who helped bring to life Ernest's stories on the app, announced the donation of the app to the 170 Children's Miracle Network Hospitals across North America, making it available to the more than 10 million kids treated at member hospitals across North America each year. The storybook app is now available for purchase in the iTunes store for $2.99.
Thayer and Rucker's ongoing dedication to philanthropy and supporting children's hospitals' healthcare initiatives continues to be a priority for both of them. While at MUSC Children's Hospital, they visited with patients and performed a song from the storybook app. Thayer and Rucker, along with app creator Mechem Media, also donated a select number of iPads to the hospital's Child Life Department so that patients and future patients can enjoy and benefit from Ernest Hummingbird's adventures.
"These amazing stories provide another resource for caregivers, such as Child Life specialists, to connect with kids. Such stories of hope and inspiration are helpful in the care of kids who are facing challenging diseases and injuries or complicated surgeries," said Amanda Mahaffey, director of Children's Miracle Network at MUSC Children's Hospital. "It's charitable support from friends like Tommy and Darius that help us provide services, such as Child Life programs, that are not covered by insurance or government programs."
Thayer, who recently raised funds through a Charity Buzz campaign for Children's Miracle Network Hospitals, is the lead guitarist of the legendary rock band KISS. Regarded as one of the most influential rock and roll bands of all-time, KISS's career milestones are staggering including sales of over 100 million albums worldwide. In 2014, Thayer partnered with Mechem Media creating new intellectual properties for TV, film, new media and mobile. For more information visit tommythayer.com.
Rucker, who has a longtime partnership with MUSC Children's Hospital, attained multi-platinum status in the music industry with Grammy award-winning group Hootie & the Blowfish. Since re-introducing himself to the world as a country artist, he has released four consecutive albums to top the Billboard Country albums chart and earned a whole new legion of fans. In 2014, Rucker won his third career Grammy for Best Solo Country Performance for his triple platinum selling cover of "Wagon Wheel." Rucker is currently headlining his Good for a Good Time Tour. For more information and tour dates visit dariusrucker.com.
MUSC Children's Hospital is the largest and most comprehensive pediatric health care facility in South Carolina and one of 170 Children's Miracle Network Hospitals across North America. Children's Miracle Network Hospitals raises vital funds and awareness for these hospitals, helping them to provide care for kids that are not covered by government or insurance programs.
Follow the app release on social at #ErnestForKids.
###
About Children's Miracle Network Hospitals
Children's Miracle Network Hospitals® raises funds and awareness for 170 member hospitals that provide 32 million treatments each year to kids across the U.S. and Canada. Donations stay local to fund critical treatments and healthcare services, pediatric medical equipment and charitable care. Since 1983, Children's Miracle Network Hospitals has raised more than $5 billion, most of it $1 at a time through the charity's Miracle Balloon icon. Its various fundraising partners and programs support the nonprofit's mission to save and improve the lives of as many children as possible. Find out why children's hospitals need community support, identify your member hospital and learn how you can Put Your Money Where the Miracles Are at CMNHospitals.org and facebook.com/CMNHospitals.