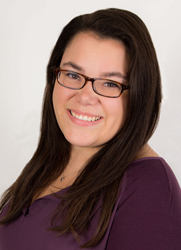 DOYLESTOWN, Pa. (PRWEB) November 15, 2016
Furia Rubel Communications, Inc., an award-winning, integrated marketing and public relations agency, is pleased to announce that Caitlan McCafferty has joined the company as account manager.
As a public relations account manager for Furia Rubel, McCafferty supports the implementation of communications strategy for all clients' public relations, media relations, crisis communications, marketing and social media.
"Caitlan is an excellent addition to our team," said Sarah Larson, Vice President of Public Relations at Furia Rubel. "She has insights and skills that have already proven invaluable to our team and our clients and she is an absolute pleasure to work with."
Before joining Furia Rubel, McCafferty worked for a Philadelphia title insurance company where she explored the nuanced communication practices needed for professional services by creating strategies and building brand visibility, while working to foster strong relationships with real estate law firms.
Last year, she worked with the communications staff at Bucks County's domestic violence shelter, A Woman's Place. She consulted on a marketing and public relations plan for the organization's annual fundraiser, Chocolate Lovers' Fantasy, and continues to volunteer with the nonprofit.
McCafferty previously served as an intern with the National Museum of American Jewish History, a Philadelphia museum focusing on the history of the American Jewish experience, Visit Bucks County, the local conference and tourism bureau, and as a research associate at the Newseum, a D.C. museum sharing the history of the media.
McCafferty is a lifelong resident of Bucks County, Pa. living in Upper Makefield Township. She earned a bachelor's degree in history and communication studies before going on to earn a Master's of Strategic Communication from American University.
Furia Rubel Communications, Inc. is an integrated and strategic marketing and public relations agency based in Bucks County, Pa. The certified woman-owned agency provides strategic planning, marketing, public relations, media relations, graphic design, website design, content marketing, blog production and social media services to a wide array of professional clients. Furia Rubel represents law firms, technology companies, educational organizations, accounting firms, nonprofits, municipalities, and manufacturing, behavioral health and elder care organizations. For more information, visit http://www.furiarubel.com, follow on Twitter at @FuriaRubel or subscribe to the blog at ThePRLawyer.com.
# # #