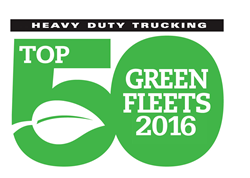 Cherry Hill, N.J. (PRWEB) November 15, 2016
Leading supply chain solutions provider, NFI, has once again ranked on Heavy Duty Trucking's Top 50 Green Fleets list in its latest November issue. The list, assembled by the popular trucking magazine, features fleets with a commitment to sustainability, alternative fuels, and lowering greenhouse gas emissions.
"NFI is proud to be a leader in sustainability while delivering end-to-end supply chain solutions that help our customers," said Bill Bliem, NFI Senior Vice President of Fleet Services. "NFI continues to look for collaborative opportunities with our diverse customer base to integrate sustainable operations."
NFI places a priority on sustainability and lessening its environmental footprint by utilizing technology such as AirTabs, trailer skirts, and speed limiters to decrease fuel usage. Also, NFI has pioneered the use of battery powered Auxiliary Powered Units (APUs) on its fleet of 2,000 tractors. With a focus on alternative fuels, NFI has implemented several natural gas fleets across the country and advocated for natural gas service stations.
The company has been recognized for its forward-thinking approach to clean transportation. NFI is a three time EPA SmartWay Excellence award recipient and was awarded the Advanced Clean Transportation (ACT) Expo Fleet Award for Shippers & Carriers.
Click here to view the complete list of Heavy Duty Trucking's Top 50 Fleets.
# # #
About NFI -- NFI is a fully integrated supply chain solutions provider headquartered in Cherry Hill, N.J. Privately held by the Brown family since its inception in 1932, NFI generates more than $1.2 billion in annual revenue and employs more than 8,000 associates. NFI owns facilities globally and operates 29.5 million square feet of warehouse and distribution space. Its company-owned fleet consists of over 2,000 tractors and 8,200 trailers, operated by more than 2,600 company drivers and 250 owner operators. Its business lines include dedicated transportation, warehousing, intermodal, brokerage, transportation management, global, and real estate services. For more information about NFI, visit http://www.nfiindustries.com or call 1-877-NFI-3777.