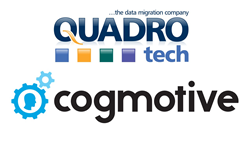 Together we can leverage our combined technology and talents to provide even more capabilities to our customers
Zug, Switzerland (PRWEB) November 15, 2016
The addition of Cogmotive allows QUADROtech to create deeper value for customers, not only through the intelligent migration of data to Office 365, but also helping customers and partners to measure and achieve the full value of their Office 365 investment long after the migration has completed.
Cogmotive provides market-leading Office 365 Reporting software covering all major Office 365 services including Exchange Online, Skype for Business, SharePoint Online and OneDrive for Business, helping customers gain the business insight to control their Office 365 environment on a global scale.
At Microsoft Ignite 2016, Cogmotive unveiled its newest product, Discover & Audit, which allows customers to investigate actual and potential security weaknesses and incidents in detail based on audit information gathered from across Office 365.
Cogmotive technology already serves over 3,000 organizations and its products complement QUADROtech's market leading migration products for Email Archive, Public Folders and PST files.
Thomas Madsen, Chairman of the QUADROtech Group, said "We are thrilled to welcome Cogmotive to the QUADROtech group. Together we can leverage our combined technology and talents to provide even more capabilities to our customers and the wider Office 365 market.
"Customers already see the benefits of joint operations between the two companies. Not only do we offer customers the fastest and most complete migration path to Office 365, we now help customers understand their return on investment into Office 365."
QUADROtech and Cogmotive are already identifying new opportunities for innovation to expand their reach to new markets. QUADROtech's experience in working with large scale enterprise customers teamed with Cogmotive's ability to intelligently report and analyze Office 365 data means that we can provide better solutions for customers with on-premises, hybrid, and cloud environments.
About QUADROtech
QUADROtech (http://quadro.tech) is a hybrid ISV/MSP that helps customers to optimize their operations and empower their employees to collaborate and be productive anywhere on any device by bringing ALL their email data (live mail, email archives, PST files, and public folders) home to Microsoft Office 365 and Azure.
QUADROtech's staff of industry experts and its worldwide network of partners work in collaboration with Microsoft account teams and the Microsoft FastTrack Centers in enterprise and midmarket accounts globally to overcome barriers to cloud adoption and drive deep and rapid active usage of Office 365 and Azure.
QUADROtech is a trademark of QUADROtech Solutions AG. All other trademarks are the property of their respective owners.