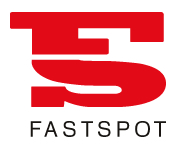 "It is very important for us to add the right people to our growing teams, and the process is highly selective. We have added outstanding talent in every seat at the company," Tracey Halvorsen, chief visionary officer at Fastspot.
Baltimore, MD (PRWEB) November 16, 2016
Senior talent in user experience and marketing have joined the agency to deepen Fastspot's product offering and elevate its brand. A director of design has been named from an internal candidate, and an additional developer, user experience designer and project manager have been added.
Anne Petersen, Fastspot's new director of user experience, brings over 12 years of creating holistic strategies centered on the experiences of users who need technology to work for their benefit. Her work spans user research, roadmaps, content strategy and collaborative workshops with clients. Petersen graduated from Beloit College and holds an MFA from Penn State University.
Julie Higgins, in the newly created role of director of marketing and communications, brings communications and marketing expertise to Fastspot from a variety of industries, including tech. A veteran of the communications and marketing divisions of Blackboard, Levi Strauss & Co., Gymboree and Fleishman-Hillard, Higgins is focused on extending Fastspot's brand reach into new markets and offering communications services to clients. Higgins earned a BA from the University of Pennsylvania.
Yianni Mathioudakis has been promoted to director of design at Fastspot after ten years at the agency. Mathioudakis specializes in concept development, usability, interface design, and content visualization and has made beautiful work for George Washington's Mount Vernon and the Chicago Architecture Foundation. Mathioudakis earned a BFA in graphic design from Maryland Institute College of Art. Mathioudakis will continue to report to Curt Kotula, Fastspot's creative director.
Lucas Roe, Fastspot's new user experience designer, joined Fastspot from Columbia-based ACGI Software, where he was the lead user experience (UX) designer. Prior to that, Roe worked for No.inc and R2I in Baltimore as a UX designer. Roe graduated from Towson University with a BS in graphic design. He is heavily involved in local UX meet-ups in Baltimore.
Bryan Stoner, Fastspot's new developer, comes to Fastspot from Idfive, where he was a front-end web developer. Prior to that, Stoner was at Finalsite as a front-end developer until they merged with Silverpoint, where Stoner met Fastspot's Nick Hall and Scott Opirhory. Stoner came to web development via the University of Maryland Baltimore County college career fair, where he obtained a BS in Information Systems.
Abigail Pendergrass, Fastspot's new project manager, brings account management experience to Fastspot from her days at Waybetter Marketing, the Baltimore Museum of Industry and management consulting firm Ciotek. Pendergrass graduated from University of Maryland Baltimore City and completed her MBA while studying abroad in the UK.
"Organizations partner with Fastspot for the powerful blend of great design and user-focused interactive strategy, along with our highly collaborative approach to digital communications," said Tracey Halvorsen, chief visionary officer and co-founder at Fastspot. "It is very important for us to add the right people to our growing teams, and the process is highly selective. We value the trust our clients put in us to deliver amazing results, and we need outstanding talent in every seat at the company."
Fastspot specializes in large-scale web-based strategy, design and development for higher education, cultural organizations, health care and financial services organizations.
For more information about Fastspot, please visit Fastspot or follow us on Twitter at Fastspot, and on Facebook.
Interactive digital agency Fastspot was founded in 2001. The company has helped build numerous brands, including the Walters Art Museum, Bucknell University, George Washington's Mount Vernon, Kenyon College and the Chicago Architecture Foundation. Fastspot's work is consistently present in prestigious award programs, such as the Webbys, the CASE Awards and the W3 Awards. Fastspot combines a high level of creativity with an unparalleled level of user experience focus, and a skill set within interactive technologies which delivers work that delights, nails business objectives and is sustainable.