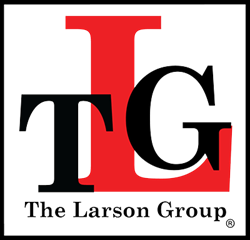 Adding mobile messaging capabilities provides the ultimate in convenience—customers can choose to chat, text or call us, whichever option works best for them.
Springfield, Mo. (PRWEB) November 17, 2016
In a continued effort to enhance its award-winning service, The Larson Group (TLG) Peterbilt has chosen Contact At Once!, a LivePerson company (Nasdaq: LPSN), as its mobile messaging platform, enabling customers to instantly connect with dealers using chat or text.
"Adding mobile messaging capabilities provides the ultimate in convenience–customers can choose to chat, text or call us about general inquiries, Peterbilt truck parts or even inventory, via whichever option works best for them," said Glenn Larson, TLG President and Dealer Principal. "As we said when we unveiled our new site design, our goal is to offer our customers innovative features that continually improve their experience with us."
Now, when a customer has a question about new and used Peterbilt trucks for sale while shopping online or in store, they can simply text through the Contact At Once! platform from the website, a phone or the app and get immediate feedback.
To ensure someone is always available to respond to customers' commercial truck service requests, inquiries about specific Peterbilt listings and general questions, TLG dealers chose Contact At Once! mobile apps to connect on-the-go. The current Peterbilt North American Dealer of the Year also plans to integrate proactive conversation management as a part of its program.
"If someone from one of our dealership teams isn't available, messages roll over to trained professionals who can provide an instant connection for the customer and capture information for dealer follow up," said Barbie Langston, TLG Corporate Marketing Manager. "The combination helps us ensure we have a consistent and positive experience whenever customers choose to connect."
Data shows that mobile messaging between consumers and businesses over the Contact At Once! network, which manages millions of interactions each year, is rapidly on the rise. More than 15,000 dealerships in automotive, commercial transportation use the Contact At Once! platform to connect with consumers.
"When we give customers the option to message with dealers, they take advantage of it," said Skip Dowd, Contact At Once! vice president, Automotive solutions.
About The Larson Group
The Larson Group has been providing quality Peterbilt products and exceptional service across the Midwest for over 25 years and has now expanded that stellar service to the Southwest as well. TLG has built teams of qualified, highly trained professionals to assist customers with their commercial transportation needs at 18 Peterbilt facilities, located in Arkansas, Illinois, Indiana, Kentucky, Missouri, North Carolina, South Carolina and Ohio. The dealer group sells, services and inventories parts for the full lineup of Peterbilt trucks as well as all lines of trucks, trailers, buses and engines.
For more information about The Larson Group's Peterbilt trucks, parts or commercial truck service offerings, visit TLGtrucks(dot)com or contact Barbie Langston at blangston(at)tlgtrucks(dot)com.
About Contact At Once!
Contact At Once!, a LivePerson company, helps boost engagement by making it easy for consumers to connect with vehicle manufacturers and dealerships to ask questions at the moment their interest is piqued. More engagement can translate into more sales, and that's why over 15,000 businesses rely on the Contact At Once! mobile messaging platform to build connected relationships with online, mobile shoppers. For more information, visit contactatonce(dot)com.
About Liveperson, Inc.
LivePerson, Inc. (NASDAQ: LPSN) is a leading provider of mobile and online messaging business solutions, enabling a meaningful connection between brands and consumers. LiveEngage, the Company's enterprise-class, cloud-based platform, empowers consumers to stop wasting time on hold with 1-800 numbers, and instead message their favorite brands, just as they do with friends and family. More than 18,000 businesses, including Adobe, Citibank, EE, IBM, Orbitz, PNC, and The Home Depot rely on the unparalleled intelligence, security, and scalability of LiveEngage to reduce costs, increase lifetime value, and create meaningful connection with consumers. For more information, please visit http://www.liveperson.com. To view other global press releases about LivePerson, please visit pr.liveperson.com.
Safe Harbor Provision
Statements in this press release regarding LivePerson that are not historical facts are forward-looking statements and are subject to risks and uncertainties that could cause actual future events or results to differ materially from such statements. Any such forward-looking statements, including but not limited to financial guidance, are made pursuant to the safe harbor provisions of the Private Securities Litigation Reform Act of 1995. It is routine for our internal projections and expectations to change as the quarter and year progresses, and therefore it should be clearly understood that the internal projections and beliefs upon which we base our expectations may change. Although these expectations may change, we are under no obligation to inform you if they do. Actual events or results may differ materially from those contained in the projections or forward-looking statements. Some of the factors that could cause actual results to differ materially from the forward-looking statements contained herein include, without limitation: potential fluctuations in our quarterly revenue and operating results; the adverse effect that the global economic downturn may have on our business and results of operations; competition in the markets for online sales, marketing and customer service solutions, and online consumer services; our ability to retain existing clients and attract new clients; risks related to new regulatory or other legal requirements that could materially impact our business; impairments to goodwill that result in significant charges to earnings; volatility of the value of certain currencies in relation to the US dollar, particularly the currency of regions where we have operations; additional regulatory requirements, tax liabilities, currency exchange rate fluctuations and other risks as we expand internationally; responding to rapid technological change and changing client preferences; our ability to retain key personnel and attract new personnel; our ability to expand our operations internationally; risks related to the ability to successfully integrate past or potential future acquisitions; risks related to the regulation or possible misappropriation of personal information belonging to our customers' Internet users; technology systems beyond our control and technology-related defects that could disrupt the LivePerson services; privacy concerns relating to the Internet that could result in new legislation or negative public perception; legal liability and/or negative publicity for the services provided to consumers via our technology platforms; risks related to protecting our intellectual property rights or potential infringement of the intellectual property rights of third parties; increased allowances for doubtful accounts as a result of an increasing amount of receivables due from customers with greater credit risk; delays in our implementation cycles; risks associated with our current or future stock repurchase programs, including whether such programs will enhance long-term stockholder value, and whether such stock repurchases could increase the volatility of the price of our common stock and diminish our cash reserves; risks related to our operations in Israel, and the civil and political unrest in that region; and risks related to our common stock being traded on more than one securities exchange, which may result in additional variations in the trading price of our common stock. This list is intended to identify only certain of the principal factors that could cause actual results to differ from those discussed in the forward-looking statements. Readers are referred to the reports and documents filed from time to time by us with the Securities and Exchange Commission for a discussion of these and other important risk factors that could cause actual results to differ from those discussed in forward-looking statements.