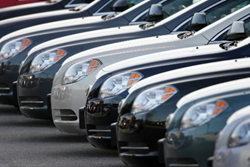 Participating surePost™ dealerships have added...more phone calls, walk-ins and, most importantly, car sales.
San Ramon, CA (PRWEB) November 17, 2016
blueSky Marketing Group, a leader in new car and special finance auto leads, is helping local dealers achieve more sales with its all new ad posting platform – surePost™. The technologically advanced tool collects and interprets Craigslist user data and trends to get the right dealer ads in front of the right users at the right time.
A truly hands-free posting solution, surePost™ links directly to the dealer's inventory and automatically creates and posts their ads on Craigslist. After the postings go live, surePost™ ensures ads stay current with real-time updates. Any changes (pricing, description, etc.) made on the dealer side are detected by the platform and updated accordingly on Craigslist.
Engineered to intelligently work with Craiglist's new search algorithms, surePost™ learns which vehicles perform the best and determines what times of day will garner the highest posting visibility and consumer response. It then optimizes these postings to the top of the search results giving dealers the best possible opportunity to convert a sale.
In addition, surePost's™ ad recycling feature will automatically replace any vehicle that sells prior to the end of the posting period with another vehicle, maximizing dealers' exposure for every dollar they spend.
Dealer's ads can be enhanced with customized branding, taglines and even bi-lingual messaging to make a greater impact with the consumer. And its highly intuitive dashboard gives dealers complete visibility into the performance of their campaigns.
Participating surePost™ dealerships have added on incremental used vehicle sales, but have also benefited from an increased market presence, not to mention the time and money saved from using the platform's smart and efficient automated features. What this ultimately amounts to for dealers is more phone calls, walk-ins and, most importantly, car sales.
About blueSky Marketing Group, Inc.
blueSky Marketing Group is a nationally recognized lead generation and car sales leads provider that offers a full suite of new customer acquisition and sales conversion products for its participating automotive dealers. blueSky Companies, Inc. is the parent company for blueSky Marketing Group, Inc., an automotive marketing and lead generation company, and blueSky Financial Services, Inc., a nationally licensed auto finance company.