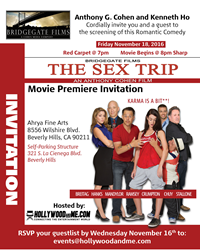 (PRWEB) November 16, 2016
For Immediate Release:
World Premiere of "The Sex Trip"
Friday, November 18th, 2016
Source: Bridgegate Films
Wednesday 16th, 2016
Bridgegate Films presents a Cohen Media Group Production of an Anthony G. Cohen film, "The Sex Trip." Starring Louis Mandylor, Jim Hanks, Frank Stallone, Chuy Bravo, Jade Ramsey, Charlotte Price, and Marc Crumpton. A hilarious romantic comedy guaranteed to make you laugh with a fun, new twist on the body-switching plot.
Synopsis: After a shallow womanizer refuses a mysterious homeless woman's request for a kiss, he wakes up the next morning to discover he's been changed into a woman. He must now try navigating life as the sex he previously exploited.
Writer/Director/Producer, Anthony G. Cohen and his producing partner Kenneth Ho, will be present during and after the screening to answer questions.
When: 
Friday, November 18th, 2016
Crew Arrivals: 6:00PM
Celebrity Arrivals: 7:00 PM
Screening: 8:00 PM
Where:
Ahrya Fine Arts
8556 Wilshire Blvd
Beverly Hills Ca. 90211
Your coverage of this event is invited
            
Contact:
For Media Pass - Kara Kaysee at events(at)hollywoodandme(dot)com.
Press Credentials must be picked up at the theater after 6:00PM on the day of the event.
Other Contacts – (818) 579-4323
Broadcast: Tori Evans
Print: Mandy Allyn
Photo: Jeff Gottleib
Online: Kenneth Ho
International: Anthony G. Cohen
###