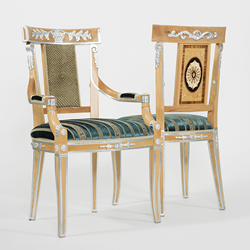 A beautiful piece of furniture will look as good far away as it does close up.
New York, NY (PRWEB) November 17, 2016
Quality equals value, an investment that will appreciate over time. How do you determine a quality piece when shopping for furniture? Gleb Belyaev of Turri NYC, the New York-area arm of the fourth-generation Italian furniture company based in Como, Italy, offers the following tips:
1. Quality upside down/right side up/inside out: Look at the back side of the furniture, the under side and inside the drawers. Do you see high-quality wood or plywood? Plywood implies the piece was not made to the highest standards. Items made of MDF (medium-density fiberboard), an engineered wood product comprised of wood fibers combined with wax and a resin that is usually denser than plywood, are also generally of low quality and not durable. All Turri furniture is made from solid wood frames.
Many drawers of top-quality pieces, such as those from Turri, have suede or leather lining. If you can, examine how the drawers are put together. Dovetail joinery, an age-old craftsmanship technique where the fingers of wood are joined together by diagonal cuts, ensures the drawers won't come apart and requires skill and precision to create.
2. Seamless to the eye and smooth to the touch: Veneers should not only be elegant and pleasing in design, they should be smooth to the touch as a result of hand-sanding and perfectly aligned. Perfect alignment shows the investment the producer has made in the piece; it requires that they purchase more veneer; for example 10 square-feet of veneer for a four-square-foot design. Turri has 20 women in Como dedicated to applying veneers with techniques that rival any art form and that have passed down through the generations.
3. A lasting finish: To provide visual depth to lacquer, it must be hand-applied 4 to 12 times and hand-polished in-between the layers. This gives visual depth to the design, with the light reflecting off all the layers. Turri uses only the best lacquers applied with painstaking care.
4. Details matter: A beautiful piece of furniture will look as good far away as it does close up. The hardware, carvings and metallic finishes will all resonate with high-level craftsmanship. Small imperfections in the hand carving and layered metallic finishes aren't signs of poor quality but of a piece that has felt the touch of human hands.
5. 21st-century ease and comfort: Not all high-quality furniture relies solely on age-old craftsmanship, some aspects, such as smooth, quiet drawer glides, comfortable seating and the finest fabrics incorporating the latest innovations and designs are indicative of a company like Turri that unites modernity and tradition for today's consumers.
The following is a link to a video on Turri furniture with designer Julien Aleksandres: https://www.youtube.com/watch?v=F327W9bzOWI.
For more information about Turri NYC and to set up an appointment to view the collection, visit http://www.turrinyc.com/,
email: moow-design.studio(at)gmail.com or call 917-941-1408.
###
MEDIA CONTACT:
Sarah Fletcher
Sarah P. Fletcher Communications
sapoflet(at)gmail.com