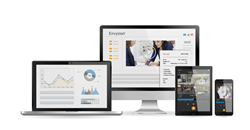 I can quickly pull up sites and use live data to increase operational efficiency while I'm on the road.
Superior, CO (PRWEB) November 17, 2016
Envysion, the industry leader in video-based business intelligence solutions, has released a new mobile app that provides customers with complete visibility into their store locations from mobile devices. An iOS version of the app was released in June with its Android counterpart releasing to the Google Play store today. The new app allows franchise owners, loss prevention managers, area managers, and general managers to access live and recorded video on the go—providing the tools they need to maximize operational success.
"This app was designed to help our franchisee owners and operators keep tabs on their businesses on the go", said Chris Loge, vice president of product management at Envysion. "From performing look-ins while on the move to sharing instant snapshots of store activity, our customers will be able to access the information they need when they need it."
The product has been tested and used by dozens of clients over the past several months.
"I can quickly pull up sites and use live data to increase operational efficiency while I'm on the road." ~ Jason Zakaras, Director of Operations at Zak LLC (Taco Bell)
"It's super user-friendly and straight-forward. I can easily drag my finger across the timeline and move all cameras at the same time." ~ Jeremy Roberts, Director of Operations at NTouch Wireless (Sprint)
Envysion involved customers in every stage of research and development to ensure the best possible user experience and functionality that meets their specific needs. This resulted in a dynamic mobile application that can help business owners and franchisees improve the customer experience, reduce fraud, and make each consumer interaction successful.
Existing customers can download the application to Apple and Android devices as part of their ongoing service agreement, and can learn more about the app at envysion.com/mobile. New customers can contact Envysion at 877.258.9441 to learn how they can subscribe to this service.
About Envysion
Envysion is the leading video-based business intelligence solutions provider that equips retail operators with instant and actionable insight, enabling them to increase profitability 10-15% through broad utilization of powerful video-based business intelligence. Envysion has transformed video surveillance into a strategic management tool that provides instant and unfiltered business insights to users across operations, loss prevention, marketing and human resources. Envysion's patented and award winning platform quickly scales to 1,000s of locations and 10,000s of users without straining the IT department or network.
For more information, please visit http://www.envysion.com.