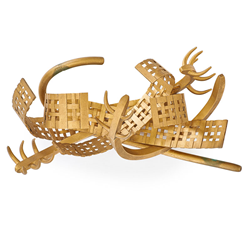 Lambertville, New Jersey (PRWEB) November 17, 2016
The perfect gift for the opera/ballet/classical music lover sells at Rago Auctions on December 2. It's the maquette for the sculpture that crowns the Metropolitan Opera proscenium arch by the American artist Mary Callery.
Mary Callery developed her talents as a modern sculptor in Paris before embarking on a successful career in America, represented by art dealers M. Knoedler & Co. and the Curt Valentin Gallery. Her playful work in metal was exhibited in more than twenty noteworthy solo and group exhibitions, purchased for private collections and by the Museum of Modern Art and the Whitney Museum of American Art among other institutions. Her social network included modernist architects Phillip Johnson and Wallace K. Harrison, designer of the Metropolitan Opera at Lincoln Center. It was Harrison who commissioned Callery to design the proscenium arch sculpture.
The sculpture, described in the house's 1966 guidebook as an "untitled ensemble of bronze forms creating a bouquet of sculptured arabesques," is perhaps Callery's best known work. When the doors of the Met opened in 1963, however, it was not a critic's darling, described by one as "an enigmatic bundle of perforated strips and gilded noodles". Regardless of early critical opinions, love it or hate it, for performers, stagehands and devoted audiences, there is no disassociating it from the Metropolitan Opera House.
The consignor inherited the maquette from an aunt, a friend of Ms. Callery. She recognized it for what it was only upon attending a performance at Metropolitan Opera House.
Remix: Timeless Style
Friday, December 2, 2017 at 2 pm
Auction catalog online http://www.ragoarts.com/auctions/2016/12/02/remix
Previews begin Saturday, November 26