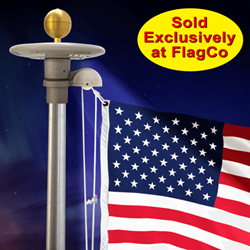 Atlanta, GA (PRWEB) November 16, 2016
Long-aware of consumer interest in the much sought-after Commercial Grade Manufactured Tapered Sectional Flagpoles, The Flag Company, Inc. is now making them available to homeowners, and promoting them as a great gift idea for the Holidays.
Arriving complete and easy to use with pre-installed cleat, from ground sleeve and crowned with gold ornament on top, the elegant Residential Sectional Flagpole features five satin-finished anodized silver, 16-gauge aluminum sections.
According to Mike Lawrence, The Flag Company, Inc. Vice President, "This top-of-the-line Sectional Flagpole is manufactured to the exact same rugged commercial specifications as our Special Budget Series of one-piece flagpoles. The difference is we've price-pointed it for homeowners, with the added bonus that exclusive for the holidays, we've made shipping super-affordable via UPS.
"The Sectional Flagpole comes in a choice of 20' and 25' heights, in three sections that taper from 3" at the base, to 1-7/8" at the top. Mr. Lawrence also mentioned, "We even include specially-written, easy-to-follow installation instructions for consumer-friendly use."
The Residential Sectional Flagpole is immediately ready to ship via UPS, and can be conveniently ordered online at flagco.com.
New and exclusively from The Flag Company, Inc. The Revolving Solar Starlight Beacon captures the sun and follows your flag!
Old Glory, meet New Reliable: The Revolving Solar Starlight Beacon (U.S. Patent 7,275,495)
State-of-the-art flag illumination for residential users has arrived: Revolving Solar Starlight Beacon automatically turns on at dusk, and shines through the night. And most important – all night long, Revolving Solar Starlight Beacon's smooth action actually follows your flag, lit by two sections of super bright LEDs rated for 25,000 hours of use positioned over the flag. Directing all the energy at your flag means there is no light trespass: no light wasted shining on anything other than your flag.
Revolving Solar Starlight Beacon fits most residential flagpoles with 2" diameters. No special tools are required to install it on flagpoles 15' to 25' in height.
The Revolving Solar Starlight Beacon package includes:
3 rechargeable and replaceable batteries
2" cap style revolving truck
3" gold ball
100 Lux output
Bright long-life LEDs
Simple instructions
Flag and Flagpole Not Included.
The Revolving Solar Starlight Beacon, a unique gift idea, arrives just in time for the Holidays!
About The Flag Company, Inc. and The Christmas Shop
The Holidays are when The Flag Company, Inc. really shines with its commitment to this very special time of the year. The recurring seasonal success of The Christmas Shop, and Residential Sectional Flagpole is indicative of the commitment The Flag Company, Inc. has made to being responsive to the topical needs of the flag and flagpole industry, and being at the forefront of its web commerce.
Since its founding over 25 years ago, The Flag Company, Inc. has strived to streamline the buying process for consumers, businesses and industry professionals alike, making it as seamless and effortless as possible. As the largest online supplier of flags and flagpoles, The Flag Company, Inc. established its first success as the originator of the iconic Farming Flags®. Since then, The Flag Company, Inc. has led the industry with such products as its patented Flagpole Beacon for its Illuminator Series flagpoles, and for single sale retrofits, as well as Homesteader Tapered Poles and Solar Beacon Packages.
Catering to eighteen distinct categories of customers, The Flag Company, Inc. provides an extensive inventory of over 6,500 items. The Flag Company, Inc. now also partners with a dedicated machine and manufacturing company, expanding its capability to provide custom brackets, finials, hardware and other similar products for special orders. Additionally, The Flag Company, Inc. is collaborating on pioneering robotic equipment for use in the flagpole industry.
Thriving on special and challenging projects, The Flag Company, Inc. resumé includes highpoints such as flagpoles for Georgetown University in Qatar, the Spiral Rotonde at Aruba International Airport, Dow Chemical Headquarters in Michigan, and the 1996 Centennial Olympics in Atlanta, GA., among many others.
Especially at this time of year, The Flag Company, Inc. celebrates over 25 years of providing excellent products and customer service, and appreciates all its loyal customers and hard-working employees as it looks forward to many more Christmas seasons.
Besides The Christmas Shop page, The Flag Company, Inc. has developed several websites targeting its varied and diverse customer base, including flagpolewarehouse.com, valley-forgeflag.com, feelgoodlightups.com, toothpickflag.com, and digitalprintingservice.net.