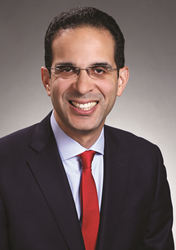 Boston, MA (PRWEB) November 15, 2016
Angel Taveras, a shareholder in Greenberg Traurig, LLP's Boston office and former Providence, Rhode Island mayor, will speak at the National League of Cities' City Summit, Nov. 16 – 19, 2016, in Pittsburgh, Pennsylvania.
On Nov. 18th, from 3:30 – 5:00 p.m., Taveras will serve as a panelist on "Politics of Public Sector Pensions," which will update elected officials on pension plans, retiree healthcare options (OPEB) and the potential for savings and reform. Specifically, Taveras will discuss pension reform in Providence, Rhode Island during his term as mayor.
Taveras served as the mayor of Providence, Rhode Island from 2011-2015, and is credited with rescuing the city from the brink of bankruptcy and confronting a $110 million structural deficit. He spearheaded the completion of a historic municipal pension agreement with Providence's police, firefighters, other city workers and retirees, which saved Providence $18.5 million a year and reduced the city's unfunded pension liability by about $170 million.
Under Taveras' leadership, Providence received the All-America City Award from the National Civic League for its plan to boost third-grade reading proficiency, and was the recipient of a $3 million award from Carnegie Foundation to create innovative high schools. In 2013, Taveras won Bloomberg Philanthropies' Mayors Challenge $5 million grand prize for his innovative proposal to improve the vocabularies of pre-school age children. Taveras serves on the Board of the Alliance for Early Success, a nonprofit organization that works to advance state policies for young children. Most recently, he was elected to the national board of LatinoJustice PRLDEF, one of the foremost Latino civil rights organizations in the country, serving a pan-Latino constituency.
At Greenberg Traurig, Taveras focuses his practice on municipal restructuring, public finance, commercial litigation, pension litigation, and public infrastructure. He has over 14 years of experience in litigation and has dealt with complex commercial matters, bankruptcy litigation, zoning and land use, shareholder disputes, and election recounts and challenges.
About Greenberg Traurig's Boston Office
Established in 1999, Greenberg Traurig's Boston office is home to more than 65 attorneys practicing in the areas of corporate, emerging technology, energy, governmental affairs, healthcare, intellectual property, labor and employment, life sciences and medical technology, litigation, public finance, real estate, and securities. An important contributor to the firm's international platform, the Boston office includes a team of nationally recognized attorneys with both public and private sector experience. The team offers clients the value of decades of legal experience and hands-on knowledge of the local business community, supported by the firm's vast network of global resources
About Greenberg Traurig, LLP
Greenberg Traurig, LLP is an international, multi-practice law firm with approximately 2,000 attorneys serving clients from 38 offices in the United States, Latin America, Europe, Asia, and the Middle East. The firm is No. 1 on the 2015 Law360 Most Charitable Firms list, second largest in the U.S. on the 2016 Law360 400, Top 20 on the 2015 Am Law Global 100, and among the 2016 BTI Brand Elite. More information at: http://www.gtlaw.com.