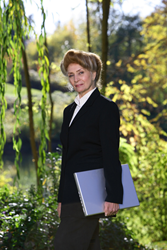 Grants Pass, OR (PRWEB) November 16, 2016
Date aired: November 7th, 2016
Guest: Dan Barron, Western Safety Products http://www.westernsafety.ca
Sharon Kleyne, founder of Bio-Logic Aqua® Research Water Life Science®, Welcomed Dan Barron, CEO and founder of Western Safety located in Port Moody, B.C, Canada. Barron and his company have delivered safety products throughout Canada for forty years, and Barron was especially interested in talking about one of Kleyne's discoveries, Bio-Med Wash®.
Bio-Med Wash® is the first portable, non-saline, non-chemical, emergency eye and wound wash product, with annual sales in the U.S. of over 400,000 units to first responders and the military. "One of the assets that Bio-Med Wash® brings to the table," said Barron, "is the fact that it's pure tissue culture grade water."
"In an emergency," said Sharon Kleyne, "especially with the eyes, you don't have time to apply a pour bottle of saline solution. You need to use something while on the go, with no fuss. You need to have something that is quick with a first-aid response, and that something is Bio-Med Wash®. It is the only fast-acting product on the market that supplements injured eyes and skin wounds with Trade Secret tissue culture grade water."
"First aid has always been about wound management," Dan Barron added. "Years ago," Baron said, "the only available first-aid products for the eyes were boric-acid based. They hurt! They stung! Later, saline solutions weren't much of an improvement. But Bio-Med Wash®," Barron continued, "stays fresh in the can for a lot longer than any other product, and it is painless and easy to use."
Barron described how grammar school teachers in Canada praise Bio-Med Wash® because it is easy for young children to use. He went on to say that Bio-Med Wash® is also highly regarded in Canada's oil fields, as well as in the construction industry where cuts and eye wounds are common. "People don't usually think of restaurants as being dangerous places," Barron said, "but we supply a lot of them with Bio-Med Wash®. People are burning themselves all the time in restaurant kitchens. No matter where they work," Barron added, "once customers use Bio-Med Wash®, there's no going back to the old days of burning and blurring boric-acids based solutions."
Sharon Kleyne, America's leading water advocate and host of The Sharon Kleyne Hour Power of Water, Global Climate Change and Your Health radio program syndicated on Voice of America, agreed with Barron, pointing out that there has never been a single malfunction of a Bio-Med Wash® unit since the product was launched years ago. She also noted that Bio-Med Wash® is in fact economically more sensible than other products.
"Bio-Med Wash® is a superior product and the only one globally available of its kind that washes out eye and flesh wounds with a pure water spray," Dan Barron concluded. "I'm not exaggerating when I say that I believe everyone should have Bio-Med Wash® handy on the job, in the home, in cars, wherever you go. It should be a standard carry-along item for your health and safety."