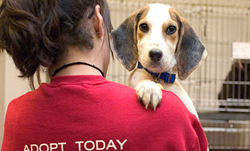 Our goal is to have as few dogs in shelters as possible. All dogs deserve a happy home, and with the PTPA, we believe that more families will be likely to adopt
TEMECULA, CA (PRWEB) November 22, 2016
The maker of the Potty Training Puppy Apartment, Modern Puppies, is announcing the launch of their new dog rescue program in which the company will partner with animal shelters with the goal of increasing dog adoptions and decreasing the number of euthanizations. Modern Puppies will donate a portion of their profits to animal shelters that participate. Modern Puppies Potty Training Puppy Apartment has already helped thousands of owners and shelters learn how to potty train a puppy effectively and has led to successful dog adoption. Through the Modern Puppies program, the company hopes to save as many dogs as possible through this new effort.
The Potty Training Puppy Apartment (PTPA) was created by Modern Puppies to make potty training easier for both dogs and their owners. One of the most challenging parts of getting a new dog is the potty training; with the PTPA, the process is expedited and simplified, many times working in as little as 3 days. The PTPA puppy potty training system works for puppies and senior dogs alike, allowing families to adopt a new pet without the stress of dealing with an untrained puppy. The difficulties of potty training is one of the main reasons why thousands of dogs are surrendered to local pounds and shelters, leading to their euthanization. Modern Puppies hopes that through the use of the PTPA, families will feel more encouraged to adopt or keep their dog, eventually leading to a decrease in the number of dogs that are put down each year.
"We created the Potty Training Puppy Apartment for the sole purpose of simplifying the potty training process for both dogs and their owners," said Modern Puppies President, Anthony DiPaolo. "Now, through our Rescue Program, we hope to get more dogs into the PTPA method and increase the number of pet adoptions. Our goal is to have as few dogs in shelters as possible. All dogs deserve a happy home, and with the PTPA, we believe that more families will be likely to adopt."
About Modern Puppies
Creators of the Potty Training Puppy Apartment and training system, Modern Puppies has garnered immense success in the pet industry. Rooted in the belief that dogs deserve the same potty training privileges as cats and humans, the team at Modern Puppies set out to create a way for dogs to be potty trained inside the home, with none of the mess that comes with the process. That's how the Potty Training Puppy Apartment came to be; dogs of all ages and sizes are now able to go potty in a safe, comfortable environment- inside the home. The PTPA allows for a humane way to potty train dogs, as well as eliminating the need to take the puppy outside or subjecting the dog to harsh weather conditions to relieve themselves.