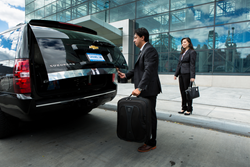 GroundLink is offering a 20 percent discount on all Ride Now rides booked from now through the end of the year.
New York, NY (PRWEB) November 16, 2016
Getting around Chicago has just become easier. GroundLink, the growing global, tech-enabled black car service, has launched their Ride Now app-based service in Chicago. The service offers rides within as little as five minutes of making the request. For Ride Now service, customers simply open GroundLink's mobile app, select the location where they would like to be picked up and then select Ride Now as the time that they would like the ride. Once booked, the customer can watch in real-time as their driver is on the way to their location.
To encourage Chicago residents, and travelers to the "Windy City," the ability to try GroundLink's Ride Now option, GroundLink is offering a 20 percent discount on all Ride Now rides booked from now through the end of the year. Ride Now rides can only be booked via GroundLink's mobile app. Once the ride is in progress, customers can track their car and communicate directly with their driver.
For customers wishing to reserve a car in advance, whether in need of a ride to and from the airport or for an important meeting, the company also offers scheduled service in Chicago. The lead-time for this service, which previously had been upwards of two hours, has now been reduced to 20 minutes or less. Additionally, GroundLink has updated its pricing model which translates into lower rates for shorter distance rides and better pricing to and from the airport.
"Our customers are frequent travelers and they stressed to us how important Chicago is as a destination and business market for them," said Liz Carisone, CEO of GroundLink. "Therefore, it was imperative that we continue to expand our Chicago operations as we are committed to providing Chicagoans and travelers coming to the city with more options for both scheduled and near-demand services. It was also important for us to adjust our pricing to make it more competitive to what is currently being offered by ride-hailing providers and much more attractive than costlier traditional limo companies. However, no matter what the price point is, we will never sacrifice the safety and security of our customers."
About GroundLink
GroundLink is a tech-enabled provider of executive black car service in major cities throughout the world. Offering the industry's only on-time guarantee, GroundLink focuses on duty of care, with professional drivers who are screened, properly licensed and fully insured. GroundLink offers a multiple booking platform for its consumer and corporate clients that includes its website (http://www.groundlink.com), its iPhone or Android app, and its 24/7 Customer Service Center (855.463.7150). GroundLink has offices in North America and Europe, with its headquarters in New York, NY. Connect with GroundLink on Twitter @GroundLink and on
Facebook.com/GroundLink.
# # #