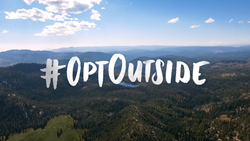 More than 1.7 million people are planning to #OptOutside with us on Black Friday. It's amazing to see so many park systems join in the movement to give Americans even more ways to connect with our country's inspiring outdoor places
Seattle (PRWEB) November 16, 2016
As millions of adventurers choose to #OptOutside, several states across the country have announced their plans to waive fees to park systems on November 25. State parks join a growing number (475 to date) of corporate, nonprofit and public sector organizations that are helping people spend more time in the outdoors this holiday season, and several state, local and federal parks that are always free.
"More than 1.8 million people are planning to #OptOutside with us on Black Friday. It's amazing to see so many park systems join in the movement to give Americans even more ways to connect with our country's inspiring outdoor places. We are grateful for the park stewards and professionals who make the outdoor American experience so vibrant," said Jerry Stritzke, REI's CEO and president.
"America's state parks welcome people who venture out early to get the best deals and need to decompress in the afternoon, as well as those who prefer to avoid the crowds completely," said Lewis Ledford, executive director of the National Association of State Park Directors. "These experiences can be enjoyed within a short drive from home virtually anywhere in the country."
State park systems that are waiving fees on Black Friday include:

Arizona*
California*
Colorado
Delaware
Indiana
Kansas
Michigan
Minnesota
Nevada*
New Mexico
Oregon
Vermont
Virginia*
State park systems that have free basic admission every day include:

Arkansas
Illinois
Iowa
Missouri
Montana*
North Carolina
Ohio
Pennsylvania
Tennessee
For the past three weeks, REI has helped promote different leaders discussing the importance of building and sustaining local, state and national outdoor places. Two of these perspectives, which were featured on REI's Co-op Journal, include:

Will Rogers, President and CEO of the Trust for Public Land, recently noted that in 25 of the country's largest cities, "more than half of residents under age nineteen don't have a place to play outdoors close to home."
Martha Roskowski, vice president of Innovation at People for Bikes, also recently highlighted the importance of building cycling networks within our towns and cities, so commuting to nearby places to play outdoors is easier.
Additional information on #OptOutside, the co-op's partners and how to join the movement is available at REI.com/opt-outside.
That National Association of State Park Directors promotes and advances the state park systems of America for their own significance, as well as for their important contributions to the nation's environment, heritage, health and economy. Additional details are available at http://www.naspd.org.
About REI
REI is a specialty outdoor retailer, headquartered near Seattle. The nation's largest consumer co-op, REI is a growing community of more than 6 million active members who expect and love the best quality gear, inspiring expert classes and trips, and outstanding customer service. REI has 149 stores in 36 states. If you can't visit a store, you can shop at REI.com, REI.com/REI-Garage or the free REI shopping app. REI isn't just about gear. You can take the trip of a lifetime with REI Adventures, a global leader in active adventure travel that runs 170 custom-designed itineraries on every continent. REI's Outdoor School is run by professionally-trained, expert-instructors who teach beginner- to advanced-level courses about a wide range of activities. To build on the infrastructure that makes life outside possible, REI invests millions annually in hundreds of local and national nonprofits that create access to–and steward–the outdoor places that inspire us.
# # #
*Some restrictions. Contact your state park.