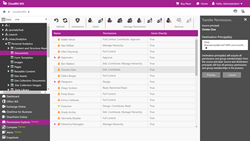 Manage permissions and make SharePoint Online a pleasant experience!
Zagreb, Croatia (PRWEB) November 22, 2016
Acceleratio Ltd., the software development company from Croatia, is thrilled to present a scientifically improved Office 365 reporting toolkit: CloudKit 365.
With the Office 365 platform constantly growing, we thought we could provide an even-better, more sophisticated, feature-packed tool based entirely in the cloud.
The tool was designed to improve the user experience when managing cloud services, especially for permissions management.
CloudKit 365 offers complete insights into Office 365, OneDrive for Business, SharePoint Online, and Exchange Online configuration settings. Acceleratio Ltd. would like to stress that it is also capable of generating one detailed, professional-looking documentation file for all tenant data.
"We believe that in the era of the cloud and digital transformation, it is important that we dedicate our time and passion to developing easy-to-use, accessible tools and helping Office 365 administrators around the world. That's why do give our best to work on continuous CloudKit 365 upgrades." – Toni Frankola, co-founder and CEO of Acceleratio Ltd.
CloudKit 365 has a fully functional 30-day free trial, which is ideal because it lets you test all of its features, such as SharePoint Online, the OneDrive for Business report, and Office 365 reporting. Users who want to test our toolkit without registering can request a live demo.
YOUR WINDOW INTO OFFICE 365
Use CloudKit 365 to extract various reports from your Office 365 environment and present your documentation to your co-workers or clients in a matter of seconds.
Office 365 reports show basic information about your company, your users, your security groups, and members of those groups. With this information, you can pinpoint where your company can save money.
MANAGE PERMISSIONS
Having the right information is not always enough. Making sense of that information is the key. And you can do exactly that by comparing two different snapshots and tracking the changed content. CloudKit 365 doesn't just help with reporting, it helps you manage the parts of SharePoint Online that bring the most chaos: SharePoint Online permissions. That's why the CloudKit 365 team came up with the clone and transfer actions, which make manually clicking on tasks a thing of the past.
Managing permissions is now easier with permissions inheritance, and break and restore permissions options. CloudKit 365 makes deleting, adding, and removing users from a specific group a piece of cake. The latest CloudKit 365 release brings SharePoint Online users the Permissions Alerts feature. This means that from now on users can set up email alerts for SharePoint Online documents.