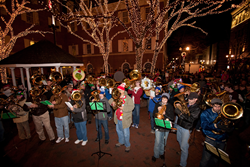 The joyful event kicks off the holiday season downtown.
Lancaster, Pa. (PRWEB) November 16, 2016
Start the holidays off with a blast – or more like a low bellow – at the annual Mayor's Tree Lighting & Tuba Christmas in Lancaster, Pennsylvania.
Where else welcomes Santa with more than 30 players performing seasonal favorites on their tubas and euphoniums, all to the delight of a merry crowd gathered 'round the city's freshly-lit Christmas tree?
This year's festivities will take place on Black Friday evening, November 25th, at Penn Square in the heart of Lancaster City, beginning with a seasonal performance by PRiMA Theatre at 6:30pm.
Santa Claus will officially arrive at 7pm, to assist Mayor Rick Gray with the lighting of the tree at approximately 7:15pm. As is tradition in hip yet historic Lancaster City, Santa will then start to make his way to the rooftop of the Lancaster Marriott at Penn Square.
Meanwhile, 30-plus tuba and euphonium players will take up their seasonally-decorated instruments at 7:30pm in the square to play a lively round of holiday tunes for all to join in singing.
As the songs come to an end, Santa will appear atop the Lancaster Marriott, to cast the Christmas spirit far and wide. Soon after, he'll be in the lobby of the grand hotel to greet kids of all ages until 9pm.
In addition, the renowned Lancaster Central Market – located just off Penn Square – will have special evening hours from 5-8pm, and horse-drawn carriage rides will be available in the square from 7:30-10pm ($5 per adult and $2 per child (12 & under) for one ride).
This joyful event kicks off the holiday season downtown. Santa will be greeting children and families on Fridays (6-9pm) and Saturdays (10am-3pm) through December 17 at the Lancaster Marriott, and the carriage rides will be offered in the square from 6:30-9:30pm on December 2, 9, and 16.
And don't forget the presents! With over 250 specialty shops, galleries, museums, performing arts venues, and restaurants, the city holds a stocking-full of perfect gifts for family and friends.