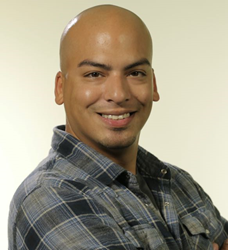 "Manny intuitively understands our clients' needs and crafts truly innovative marketing programs, in classic Aimclear style, that help drive tangible business results" - Marty Weintraub, Aimclear founder
Duluth, Minn. (PRWEB) November 16, 2016
Following an eight-year run at Duluth-based Aimclear, Manny Rivas today became the company's chief marketing officer. Aimclear announced Rivas' promotion today, moving him from his most recent role as VP of client services to a C-level role on the company's leadership team. Rivas, a UMD grad, joined the company right out of college as an associate search account manager and has held numerous roles during his time with the company.
"As one of our longest serving team members, Manny has shown great aptitude for leadership since the day he joined Aimclear," said Marty Weintraub, Aimclear founder. "Manny intuitively understands our clients' needs and crafts truly innovative marketing programs, in classic Aimclear style, that help drive tangible business results. He is a respected leader in our organization and it is an organic, natural move to entrust him with greater responsibility and flexibility to blaze new trails in marketing for Aimclear and our clients. In reality, this move codifies what has already taken place at Aimclear, a natural evolution of next generation leadership."
As CMO, Rivas will take an even more active role in three key areas of the business:

Working with client teams to help ensure Aimclear brings the most effective, cutting edge marketing services to the table to help clients grow and succeed.
Establishing a stronger marketing program to further elevate Aimclear's position as a dominant player in marketing, search, social, digital and PR.
Taking on more responsibility for new business development to attract new clients and build deeper relationships with existing ones.
"Manny has helped steer the company's direction over the last several years and has been a trusted leader at Aimclear," said Laura Weintraub, Aimclear CEO. "As a team, we have achieved significant growth during that timeframe, which has garnered national acclaim. Manny has been an important element of our success and we are excited about what his leadership means to the company's outlook."
In August, Aimclear made Inc. Magazine's ranking of the fastest-growing private companies in America, marking the fifth consecutive year Aimclear ranked as an Inc. 500/5000 company. The company also capped off 2016 with key honors during the recent US Search Awards, including awards for Best Large Integrated Agency, Best Use of PR in a Search Campaign and Young Search Professional of the Year – awarded to Aimclear's Mitch Larson.
About Aimclear®
Aimclear® is a Minnesota-based digital marketing agency widely regarded for data-driven tactics, integrated search, social, public relations, design and development services. Since 2007, the agency has pioneered cutting-edge creative strategies and psychographic audience targeting. Fixtures on the international conference circuit, team members have appeared in front of hundreds of international search & social marketing conference audiences, from Jerusalem to Sydney. Aimclear has offices in Duluth and St. Paul, Minnesota. For more information, visit Aimclear.com or Twitter @Aimclear.