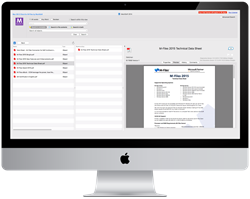 ISTANBUL (PRWEB) November 17, 2016
MechSoft, one of the fastest growing technology companies in the EMEA region and an M-Files Gold Partner, today announced the immediate availability of the first native macOS client for M-Files
M-Files enterprise content management (ECM) solutions improve and simplify how businesses manage documents and other information in order to become more productive, more efficient and stay compliant. M-Files eliminates information silos and provides quick and easy access to the right content from any core business system and device. The company has been recognized as the only vendor to appear in the Visionaries quadrant in Gartner, Inc.'s 2016 Magic Quadrant for Enterprise Content Management.
Previously, macOS users have been able to leverage M-Files via M-Files Web. The new M‑Client developed by Mechsoft offers a streamlined user experience and optimized performance through a native application that can be installed on user's macOS system.
M-Client delivers core M-Files features to macOS users, including the ability to create, secure and process documents and objects. M-Client provides document templates, check-in and check-out functionality, robust search capabilities, the ability to access complete file histories and share documents with external users, as well as many other essential ECM features.
"We have been working very hard on this first release of M-Client to provide macOS users with the power to more effectively organize, manage, secure and share their information with M-Files" said MechSoft Technology Director Mr. Gurkan Erdogdu. "This first release provides Mac users with the core features of M-Files , and our plan is to extend the feature set in future updates. We always listen our customers and shape our roadmap according to their needs."
"M-Client macOS client for M-Files is a prime example on how our partner network can provide value to the entire M-Files ecosystem by developing solutions for common customer needs and use cases", said Mika Javanainen, senior director of product management at M‑Files. "M‑Client provides a great client software option for customers using M-Files with macOS."
About MechSoft
MechSoft is a well-known digitalization company in Turkey and for 3 years, selected as one of the fastest growing technology companies in EMEA region by Deloitte. MechSoft has a team of passionate people whose goal is to make their customers work more efficiently. MechSoft is also a Gold partner of M-Files for a very long time and completed more than 200 M-Files projects successfully. For more information about MechSoft, you can visit http://www.mechsoft.com.tr. For more information about M-Client, you can visit, m-client.mechsoft.com.tr.
About M-Files Corporation
M-Files enterprise information management (EIM) solutions eliminate information silos and provide quick and easy access to the right content from any core business system and device. M-Files achieves higher levels of user adoption resulting in faster ROI with a uniquely intuitive approach to EIM and enterprise content management (ECM) that is based on managing information by "what" it is versus "where" it's stored. With flexible on-premises, cloud and hybrid deployment options, M‑Files places the power of EIM in the hands of the business user and reduces demands on IT by enabling those closest to the business need to access and control content based on their requirements. Thousands of organizations in over 100 countries use the M-Files EIM system as a single platform for managing front office and back office business operations, which improves productivity and quality while ensuring compliance with industry regulations and standards, including for companies such as SAS, Elekta and NBC Universal. For more information, visit http://www.m-files.com.