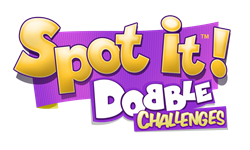 Paris, France (PRWEB) November 17, 2016
Asmodee, a leading publisher and distributor of popular tabletop games, announced today that its record-selling icon matching game Spot it! is making its way to mobile devices to please all fans of the popular card game in the beginning of 2017. Co-developed by Virtuos Studio and Asmodee Digital, and published by Asmodee Digital, "Spot it! Dobble Challenges," delivers a brand new digital adaptation of the hit family card game, offering exciting gameplay twists and vibrant new game modes designed for on-the-go fans in both single and multiplayer fun.
"For over a year now through our collaboration with Virtuos, we have managed to craft a Spot it! digital experience second to none to recreate the familiar fun and action found in the original game," says Remi Hanesse, product manager at Asmodee Digital. "The creative process we went through with Virtuos enabled the team to take on the challenge of designing both a multiplayer and single player mode directly anchored in the Spot it! culture eager to please the Spot it! community."
Built entirely from the ground-up with mobile users in mind, Spot it! Dobble Challenges expands on the original card game, featuring a vast universe of symbols, fast-paced and tactical gameplay, asynchronous multiplayer mode, leaderboard, competitive matchmaking, collectible characters and powers, as well as numerous exciting game variants (classic mode, survival mode, tricks, etc.). The game will be free to download and play globally beginning of next year in 8 languages.
Check out the latest news
Game site for the card game: https://www.asmodee.us/en/games/spot-it/
Twitter: https://twitter.com/Spotit_Dobble
Facebook: https://www.facebook.com/Spot.It.Dobble/
Instagram: https://www.instagram.com/spot.it.dobble/
Youtube: https://www.youtube.com/channel/UC4Ir9K_WSi8Zm-KUJ6qMKAg
About Asmodee Digital
Asmodee Digital, a fully owned subsidiary of the Asmodee Group, is an international publisher and distributor of digital games with operations located in Europe, North America, and China. Asmodee Digital manages the creation, design, development, publishing and marketing of board and card games on leading digital platforms for Asmodee studios (Days of Wonder, Fantasy Flight Games, F2Z Entertainment) as well as for third party publishers. The Asmodee Digital catalogue includes best-selling digital games such as Ticket to Ride, Pandemic, Splendor, Small World 2, Colt Express, Mysterium, Potion Explosion and digital versions of many other well-known board games.
About Virtuos
Virtuos is one of the largest game developers specializing in 3D art and game software development for consoles and mobile devices. The company has locations in Shanghai, Chengdu, Xian, Saigon, Vancouver, San Francisco, Paris, Tokyo and Seoul, and employees representing 15 nationalities. Virtuos' clients include 15 of the top 20 digital entertainment companies worldwide as well as renowned independent studios. For more information, please refer to: http://www.virtuosgames.com.