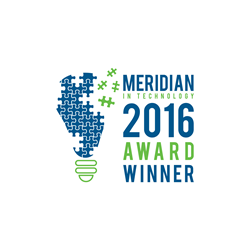 Receipt Bank easily gives you the information you need to build a profitable, scalable practice at a glance.
Las Vegas, NV (PRWEB) November 17, 2016
Accountex USA has announced today that Receipt Bank has been named the winner of the Meridian Award for Best User Interface and User Favorite Award for OCR and Data Entry.
Held by Accountex USA, the leading independent accounting conference in the US, these awards recognize the fact that Receipt Bank has always put client experience at the heart of its product.
Recent updates include allowing partners to invite clients via SMS or helping partners personalize their accounts-payable systems by integrating Receipt Bank with an additional piece of software such as Bill.com or Gusto, as well as their cloud accounting software, Xero or QuickBooks Online.
Receipt Bank's web and mobile app interfaces are intuitive and simple, creating an easy-to-use product for partners and clients alike.
This means that accountants and bookkeepers spend less time onboarding their clients and instead focus on providing the best service possible. Their clients can start using Receipt Bank straight away thanks to a mobile app that makes submitting items effortless, and even enjoyable.
Receipt Bank is committed to helping accountants and bookkeepers build profitable, scalable bookkeeping businesses.
Combining smart automation tools with unparalleled visibility on Practice Platform. Providing at-a-glance visibility over the entire bookkeeping process, this dashboard allows partners to spend more time working with their clients and focusing on revenue generating services.
According to Dawn Brolin,CPA, Meridian Judge and the CEO of Powerful Accounting, "My job is to advise and educate my clients, rather than waste time managing and tracking source documents. We found Receipt Bank to be intuitive, easy to navigate and helpful for both our clients and our team."
"Client experience is now the key differentiator in the cloud accounting market. That's why we focused on building an interface that allows our partners to focus on their clients rather than software," explains Receipt Bank CEO Alexis Prenn.
"Receipt Bank easily gives you the information you need to build a profitable, scalable practice at a glance. Our app makes it so simple for clients to submit data that you can stop chasing them and start actually collaborating on the future of their business"
The Meridian Awards are presented to exceptional vendors in the accounting technology space who have demonstrated excellence beyond their peers in a given award category by an elite group of thought leaders and Managing Partners of firms.
The Accountex User Favorite Awards, which replace the Sleeter Awesome Apps, are presented in partnership with AccountingWEB and are decided by the software users themselves.
"Receipt Bank is changing the way businesses manage receipts and expenses," says Dawn Brolin, CPA.
"The present and future of accounting is cloud-based solutions that increase productivity for small businesses. As a Certified Public Accountant, Receipt Bank has increased the efficiency and automation for my clients and my firm."
About Receipt Bank
Receipt Bank provides award-winning bookkeeping automation software for accountants, bookkeepers and small businesses. Over 4,000 accounting and bookkeeping firms around the world already use it to automate data extraction and data entry.
Receipt Bank has been awarded Xero Add-on of the Year 2012 – 2015 as well as Sleeter's Awesome App Award in 2015.
Founded in 2010 by Michael Wood and Alexis Prenn, Receipt Bank now has six offices worldwide. In January 2016, Receipt Bank raised USD$10 million in growth capital from the Kennet Fund.