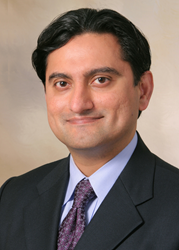 Rolling Meadows, Ill. (PRWEB) November 18, 2016
Murad Alam, M.D., M.B.A., of Chicago, recently began his term as Vice President of the American Society for Dermatologic Surgery and the American Society for Dermatologic Surgery Association.
Dr. Alam – who took office at the 2016 ASDS Annual Meeting in New Orleans – will help guide the largest specialty organization exclusively representing dermatologic surgeons.
Dr. Alam is Vice Chair of the Department of Dermatology at Northwestern University, where he also serves as a Professor of Dermatology, Otolaryngology and Surgery and Section Chief of Cutaneous and Aesthetic Surgery. He has served on numerous ASDS committees and work groups, including the Cosmetic Dermatologic Surgery Fellowship Accreditation Work Group and Task Force on Guidelines on Neurotoxin Reconstitution, Use & Storage.
As Vice President, Dr. Alam will ascend to President-Elect in 2017-18 and President in 2018-19.
"I hope to work with our physician leaders and capable staff to continue the important work of ASDS and to do my best to overcome obstacles in this time of uncertainty and change," Dr. Alam said.