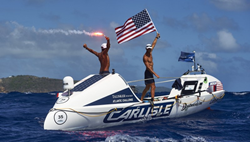 We envision winning it all, but it's a devilish race, thrilling but with a host of unknowns.
Alamo, Ca (PRWEB) November 17, 2016
Latitude 35, the professional rowing team that set a US record in the 2015 Talisker Whisky Challenge (TWAC), a 3000-mile Trans-Atlantic rowing race, is back to compete in the 2016 race, confident that they will surpass their own US record and compete toward a victory against world-class competition.
This year's race kicks off in San Sebastian, La Gomera in the Canary Islands on December 14, 2016, and will finish in the English Harbor of Antigua in the Caribbean. This 3,000-mile race across the Atlantic Ocean is widely considered to be the toughest rowing race in the world, pitting its challengers against some of the most ruthless conditions imaginable.
Captain Jason Caldwell and his Latitude 35 crew gained international fame in 2015 by finishing the four-man race with a two-man crew. "Last year, Team Latitude 35 endured two shocking hardships at the start of the race, which could have easily derailed us: two team members bowed out, one to severe illness and the other to sheer exhaustion. Thomas Magarov and I carried on as a united front--battling dangerous storms, high winds, steady rain and 40-foot swells—and still managed to set a new American record with half a crew."
Their Olympic-level crew boat, American Spirit, crossed the finish line at English Harbor, Antigua with a time of 51 days, 8 hours and 32 minutes--having covered 2,832 nautical miles. "This year—we are up for the challenge—and anticipate breaking our own US record," Caldwell remarked, " We plan to exceed the expectations that we have set for ourselves."
The 2016 version of the Latitude team is a multi-national group is comprised of two Americans and two Britons and has amassed over 15,000 miles of ocean racing over the past three years, across both the Indian and Atlantic Oceans. "Belief, determination, and focus are the criteria for when you're at sea for any length of time," Caldwell stressed. "Together we'll all be leaders, applying years of disciplined training and teamwork to create success."
The guideline for the 2016 TWAC are quite strict, Caldwell explained. Each racing group is required to complete the event unassisted--packing their own food, distilling their own water, and navigating the entire race single-handily. If a team violates even one rule they are subject to disqualification.
With the backing of racing sponsor, Carlisle, the global manufacturing company, the Latitude 35 racing team will once again cast off on American Spirit, a twenty-nine foot, Olympic-caliber vessel that is uniquely designed for this adventure. "I don't think anyone expected to us to finish last year, let alone set a US record last year," Caldwell went on. For this year's race, Caldwell makes no bold predictions, only that the 2016 team "is just as determined as last year's crew to achieve success at the TWAC," he said. "We envision winning it all, and have the talent to do so, but it's really devilish race, thrilling but with a host of unknowns. We'll be prepared going in—and just see what happens."
Jason Caldwell owns and operates Latitude 35 Racing and a second company, Latitude 35 Leadership, where he teaches leadership and team building programs at top US Business Schools and global companies, such as Nike, Booking.com, and Stanley Black & Decker, in their leadership and training departments.