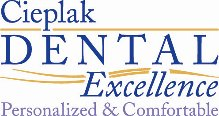 La Plata, MD (PRWEB) November 29, 2016
Patients with jaw pain are invited to celebrate TMJ Awareness Month by visiting Dr. Patrick Cieplak at his cutting-edge practice for modern temporomandibular joint (TMJ) treatment in La Plata, MD, with or without a referral. As a highly-trained dentist, Dr. Cieplak offers experienced TMJ treatments to patients in the La Plata area.
While TMD is a common condition among adults, many do not realize they have it, since the symptoms can be varied and discreet. Some of the most common symptoms of TMD include jaw pain, frequent tinnitus (ringing in the ears) and excessive tension or discomfort in the shoulders, neck and jaw. As TMJ issues become more severe, they can result in a painful condition called "lock jaw", during which the jaw becomes stuck in a closed or open position and cannot be moved.
Dr. Cieplak carefully examines each patient to determine whether or not their symptoms are due to TMD. Depending on the severity of each case that is positively identified as TMD, Dr. Cieplak may recommend a variety of treatment options. In minor cases, anti-inflammatory pain medication or a night guard may be all that is needed to manage symptoms, while more severe cases may require cortisone shots or jaw surgery. The goal of treatment is to minimize pain and help restore proper movement and functionality of the temporomandibular joint.
Dr. Cieplak completed his advanced cosmetic studies with the Las Vegas Institute (LVI) and is highly experienced in diagnosing and treating temporomandibular joint disorder, or TMD. He also completed the Pankey Institute program for TMJ care, has studied under Frank Spear at the Seattle Institute, and Robert Winter in Newport Beach for advanced cosmetic and esthetic dentistry.
Patients with jaw pain are now invited to meet with Dr. Cieplak for TMJ treatment in La Plata, MD. New patient consultations can be arranged by calling Cieplak Dental Excellence at 301-609-9999.
About the Doctor
Dr. Patrick Cieplak is a general dentist offering personalized dental care to patients in La Plata, MD. Dr. Cieplak is dedicated to learning the latest dental techniques and has completed hundreds of hours of continuing education courses. Dr. Cieplak is one of only 3,000 dentists to receive the Academy of General Dentistry's Master's Degree and he is a Fellow in the International Congress of Oral Implantlogy as well as Associate Fellow in the American Academy of Implant Dentistry. Cieplak Dental Excellence strives to offer each patient customized treatment to help them achieve proper oral health. To learn more about Dr. Cieplak, his team or the services they offer, please visit http://www.patcieplakdds.com or call (301) 609-9999 to schedule an appointment.