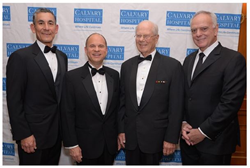 Bronx, NY (PRWEB) November 17, 2016
At their 33rd Annual Awards Gala Nov. 14 at The Pierre Hotel in New York City, Calvary Hospital raised nearly $1,000,000 for programs and services to benefit Calvary patients and their families. Sade Baderinwa, Eyewitness News anchor for WABC-TV, served as the master of ceremonies. Four-time World Series Champion and New York Yankees legend Bernie Williams performed with his All-Star Band.
In addition, Henry A. Fernandez, chairman and CEO of MSCI, Inc., was presented with The Calvary Medal. Carlos M. Hernandez, chairman of the Board of the Calvary Fund and a dinner co-chair, presented Fernandez with The Calvary Medal. Fernandez was recognized for his distinguished corporate and civic leadership, as well as his outstanding philanthropic commitments to the Calvary mission.
Last year's awards gala raised $900,000 to benefit Calvary Hospital programs and services.
In 1899, a small group of widows in New York, inspired by the work of a group in France called Women of Calvary, began caring for destitute women with terminal diseases. They took care of the women first in their own homes, then in two brownstone houses on Perry Street in Greenwich Village.
The House of Calvary moved to Macombs Road in the Bronx in 1915, became fully accredited in 1965, and officially changed its name to Calvary Hospital in 1969. Calvary Hospital has occupied its present site at 1740 Eastchester Road in the Bronx since 1978.
About the Company:
For more than a century, Calvary Hospital has been the nation's only fully accredited acute care specialty hospital devoted exclusively to providing palliative care to adult patients with advanced cancer and other life-limiting illnesses. More than 5,800 patients are cared for annually by Calvary's inpatient, home care, and hospice services. Inpatient care is offered at our 200-bed facility in the Bronx and our 25-bed Brooklyn Satellite at NYU Lutheran.
Calvary Hospice provides short-term inpatient care at The Dawn Greene Hospice, located at Mary Manning Walsh Home in Manhattan. To learn more or sign up for the e-newsletter, Calvary Life, please go to http://www.calvaryhospital.org. You can also stay connected with http://www.facebook/calvaryhospital/.