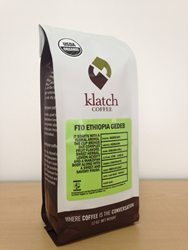 Klatch Coffee was recognized for their FTO Ethiopia Gedeb which won America's Best Cold Brew earlier this year.
(PRWEB) November 18, 2016
The Good Food Awards announced the 291 Finalists of 2017 and last year's specialty coffee roaster, Klatch Coffee, was recognized for their Fair Trade Organic Ethiopia Gedeb. The Gedeb starts with a floral aroma and the cup brings out complex fruit flavors, sweet herbal notes and lemon acidity with a sweet and savory finish.
Finalists were chosen after a blind tasting of 2,059 entries and were required to pass a rigorous inspection process to confirm they met specific Good Food Award standards that include environmentally sound agriculture practices, sourcing transparency and responsible relationships throughout the supply chain.
"Being named as a finalist is such a tremendous honor as we pride ourselves on being involved throughout the entire supply chain to ensure the best quality coffee for our customers," says owner, Mike Perry. Ethiopia Gedeb is sourced from family-owned farms organized around the Kokanna coffee mill located in the Gedeb District and is a part of the Yirgacheffe Coffee Co-op Union.
The quality of the FTO Ethiopia Gedeb is evident as it was also recognized in October when Klatch Coffee used this versatile coffee to secure 1st place in America's Best Cold Brew Competition at CoffeeFest Anaheim.
Klatch Coffee is currently offering their highly recognized FTO Ethiopia Gedeb for purchase in their three Southern California retail stores as well as online at http://www.klatchroasting.com.