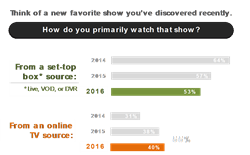 Since 2014, the balance of how viewers watch new shows they discover has swung toward online sources, and away from live TV
(PRWEB) November 18, 2016
Winning an audience for new shows has never been easy. As the number of new scripted shows continues to climb, the competition for disposable time has intensified. SVOD platforms like Netflix, Hulu, and Amazon have made huge investments in original content, and those investments appear to be paying off: a growing number of viewers say they find and watch their favorite shows through an online source.
In "Conquering Content," Hub's annual study on TV discovery, Hubasked respondents to name a new favorite show they've discovered in the past year. Then, Hub asked them how they primarily watch that show.

53% of viewers said they watch the show through their set-top box. (Either live TV, VOD, or on their DVR). That's down from 64% in 2014.
40% of viewers watch the show online: up from 31% in 2014.
Live TV continues to be the most common source overall: 34% of viewers watch their recently discovered favorite on live TV. However, that percentage is down from 45% in 2014.
Netflix is the most common online source: 22% of all viewers said they watch the show via Netflix, up from 14% in 2014.
For SVOD subscribers, original shows make a difference. Two-thirds (69%) of SVOD subscribers say that SVOD original shows make them more likely to keep their subscription, including one-third (32%) who say they are much more likely.
"SVODs are powering much of the growth in new original content, and the shift toward TV discovery on online platforms," said Jon Giegengack of Hub. "As traditional networks invest in their own online platforms and catalogs, high quality exclusive content will become even more important in winning an audience."
"We're reaching a major turning point in the sources consumers turn to first for new show discovery -- from linear to online" said Peter Fondulas of Hub. "But that's a reflection of an even more monumental shift: from SVODs as content distributors, to content producers. That's a massive gamble for these companies because their brand image will no longer be based on the tangibles of service delivery, but on the intangibles of compelling and creative programming."
About this Research
"2016: Conquering Content" is a tracking study among 1,200 US consumers with broadband who watch at least five hours of TV per week. The first wave of the study was conducted in 2013. An excerpt and infographic of the report are available as a free download from Hub Entertainment Research. This data was collected in October 2016.
About Hub Entertainment Research
Hub Entertainment Research is a market-research firm with deep expertise in television, movie, videogames, music, publishing, and sports -- anywhere that entertainment and new technology overlap. In the television industry, Hub analysts work with networks, content producers, MSOs, and digital distributors. Our job is to help our clients understand the greatest risks and most-promising opportunities facing their companies and to reveal the clearest paths to success in a changing marketplace. For more information, please visit us at http://www.hubresearchllc.com.