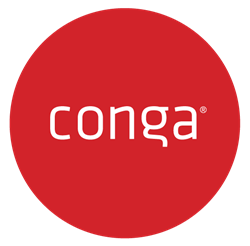 Using both Conga and FinancialForce Financial Management has greatly improved Summa Technologies' invoicing experience for both employees and customers
DENVER, CO (PRWEB) November 17, 2016
Conga, a go-to application provider for businesses looking to optimize their Salesforce investment, is proud to announce a strategic partnership with FinancialForce, the leading cloud ERP provider on the Salesforce Platform. FinancialForce will now offer Conga functionality within its FinancialForce Financial Management applications, giving users seamless document generation and simplified delivery.
"Our partnership with FinancialForce will give even more companies access to Conga's market leading functionality by giving customers a world-class solution right out of the box, allowing users to cut down on admin tasks, improve brand and message compliance, and dramatically improve productivity," said Chief Operating Officer, Bob DeSantis. "We're excited to expand our rapidly growing partner program by adding FinancialForce, a highly esteemed player in the Salesforce ecosystem."
The Conga-FinancialForce solution empowers users to create richly formatted complex documents, invoices, statements, project summary reports and financial reports directly from FinancialForce Financial Management object data. Conga, together with FinancialForce gives customers the power to easily create personalized templates that produce a consistent output every single time, increasing overall productivity and further reducing errors.
"At FinancialForce we are 100% focused on helping our customers be as successful as possible through the use of our applications and the Salesforce Platform. Partnering with Conga to help organizations automate and simplify the document generation and delivery process further showcases that commitment," said Joe Fuca, President of World Wide Field Operations at FinancialForce. "By working with best-in-class partners like Conga, we continue to prove the power of having all business applications on the Salesforce platform and we look forward to hearing of the many benefits FinancialForce and Conga customers achieve.
"Using both Conga and FinancialForce Financial Management has greatly improved Summa Technologies' invoicing experience for both employees and customers," said Lynne Stroyne, Financial Accountant at Summa Technologies. "The flexible and customizable joint solution has automated the invoicing process for us, making our team more productive. In fact, we've reduced the month-end invoicing from 4 days to just 2 days as well as increased the rate in collections reconciliation. We're very pleased with the money and time savings benefits received from using Conga and FinancialForce in tandem."
For more information on FinancialForce, please visit http://www.financialforce.com.
To learn more about Conga, please visit http://www.getconga.com
About Conga
Conga® developed its suite of enterprise-grade applications to help businesses using the Salesforce Sales Cloud remove systems and process pain points and fill the gap in Salesforce out of the box. The Conga Suite, which includes Conga Composer – a top paid application on the AppExchange –simplifies and automates data, documents, contracts and reporting.
As a Salesforce Platinum ISV Partner, Conga is committed to providing its customers with enterprise-grade infrastructure, security and solutions. In fact, more than 8,000 businesses in 45+ countries across all industries rely on Conga applications to fully utilize their Salesforce data, including Hilton Worldwide, Schumacher Group and CBRE.
The company is privately-held and based in Colorado with global operations in the UK and Australia. Learn more at http://www.getconga.com or follow Conga on Twitter: @getconga.
Salesforce, App Cloud, AppExchange and others are among the trademarks of Salesforce.com, Inc.
About FinancialForce
Founded in 2009, FinancialForce is the leading Cloud ERP vendor with apps built entirely on the Salesforce Platform. The company's Financial Management, Professional Services Automation (PSA), and Human Capital Management(HCM) offerings provide services-centric businesses with a platform that organizes sales, services, finance and HR entirely around their customers. Headquartered in San Francisco, FinancialForce is backed by Salesforce Ventures, Technology Crossover Ventures, Advent International and UNIT4. For more information, visit http://www.financialforce.com.