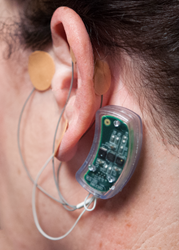 "The Bridge device offers quick reduction of pain associated with most opiate withdrawal symptoms during an office visit – this allows the patient to take the first step toward recovery." -Arturo C. Taca Jr., M.D.
ST. LOUIS, MO (PRWEB) November 17, 2016
The Bridge, a non-narcotic pain-relieving device, is proving to be a critical first step in helping opioid and heroin addicts manage painful withdrawal symptoms as they transition to a treatment protocol for recovery. Addiction medicine expert Arturo C. Taca Jr., M.D., has begun to use the device at his INsynergy Alcohol and Drug Rehab Treatment Center in St. Louis with promising results*. Dr. Taca is the first in the nation to use The Bridge as part of a comprehensive addiction-therapy protocol to help those suffering with heroin or opioid dependence.
"Heroin and opioid abuse is a devastating, growing problem in our community and across our country," said Dr. Taca. "What makes this type of addiction so insidious is the pain associated with detoxification. When users want to get clean, they often cannot because the pain of withdrawal is almost unbearable. The Bridge device offers quick reduction of pain associated with most opiate withdrawal symptoms during an office visit – this allows the patient to take the first step toward recovery."
The Bridge is a small, half-dollar-sized device attached behind the ear and worn for up to five days. It works by providing stimulation to the nerve pathways that signal and register pain in the brain. The stimulation disrupts the pain signals, providing relief without the need for medication. Once withdrawal pain has subsided and the patient is clean of opiates, they can be transitioned to non-habit forming products like naltrexone (Vivitrol), as part of their long-term recovery.
Dr. Taca, who also serves as the president of the Midwest Chapter of the American Society of Addiction Medicine (ASAM), recognizes the far-reaching potential the device can have, but is quick to acknowledge The Bridge treatment protocol is not recommended for everyone.
"The use of The Bridge helps break the cycle of dependence on any type of opioid drug or replacement medication, such as methadone or buprenorphine, which is extremely promising," said Dr. Taca. "But it is not intended for everyone who desires to detox from opiates. Patients need to have a thorough discussion with their physician or addiction specialist before discontinuing or changing any medications, treatments or therapies."
The Bridge was developed by Innovative Health Solutions of Versailles, Indiana, as a drug-free option for pain management. Ultimately, Dr. Taca hopes to gather additional data on the device's usefulness in opioid-withdrawal treatment so The Bridge may be considered for coverage by Medicaid and insurance.
"Opioid abuse and heroin addiction continue to have costly, devastating consequences for our families, communities, economy and health system" said Dr. Taca. "We must continue to identify and support solutions that can help reverse this terrible epidemic."
For more information about The Bridge treatment protocol, visit http://www.insynergystl.com.
Dr. Taca is a paid expert consultant and speaker for Vivitrol.
Facts about heroin and opioid use

Prescription painkillers and heroin, also known as opiates, are considered to be one of the most highly addictive substances ever created. Opiates cause immediate changes in the brain, which can lead to the brain disease of addiction. Opiates also affect the part of the brain responsible for breathing, and may cause a person to stop breathing and die.
In the past decade, thousands in St. Louis have died from opiate overdoses. It is estimated that one St. Louisan dies per day from opiate overdose.
Heroin and opiate-related deaths have increased 300 percent in the St. Louis region since 2007. (Statistics from http://www.curiosityandheroin.org)
About INSynergy
Located in St. Louis, Missouri, INSynergy is committed to implementing scientific advancements and discoveries in the field of addiction medicine. Advancements in anti-craving medications for alcohol, opiates, and nicotine, along with Cognitive Behavioral Therapy allow INSynergy to treat persons as outpatients without disrupting busy lifestyles. INSynergy believes that treatment does not have to be a painful, humiliating, disruptive experience. One doesn't have to 'disappear' for 28 days and have employers, family, friends, wonder what happened. Treatment is local, practical, highly effective and affordable. For more information, visit http://www.insynergystl.com.
*Copies of Dr. Taca's study of The Bridge device, Neuromodulation with BRIDGE Device Rapidly and Effectively Improves Signs and Symptoms of Opioid Withdrawal-A Multisite Study, are available upon request. The study is currently under review by the Journal of Addiction Medicine.