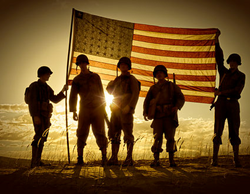 Thank a veteran for their service, for their sacrifice, and for your freedom.
LOS ANGELES, CALIFORNIA (PRWEB) November 18, 2016
UMNPA is opening Veterans Rehabilitation homes in the Orange County and Los Angeles, CA areas. "Thanks to the continued support of our partners and our donors this dream is a possibility for us," says Indigo Allendorf founder and president of United Mission for Nonprofits of America. UMNPA Rehabilitation Homes will provide Vocational, Counseling, and eventually dual diagnosis IOP Treatment services along with a safe place for Veterans to regain control of their lives and receive the much-needed help they deserve. UMNPA Rehabilitation homes will not only provide the Highest level of outpatient rehabilitation available to veterans, they will provide a warm welcoming environment where veterans can focus on their needs while rebuilding their lives and being re-acclimated into society. UMNPA plans to help over 1,000 Veterans with outpatient services and housing in 2017.
UMNPA will focus on the following areas of Rehabilitation for Veterans:

Post-Traumatic Stress Disorder (PTSD)
Traumatic Brian Injury (TBI)
Mental Health disorders
Suicide Prevention
Veteran Substance Abuse
Vocational Rehabilitation
Statistics:

Rand Corporation estimates 20% of all 2.7 million American Veterans have PTSD and/or TBI
19% of all veterans have TBI
More than 20% of veterans with PTSD suffer from an addiction or dependence on drugs or alcohol
1.4 million Veterans currently in Poverty will experience homelessness
UMNPA is Proud to be on the forefront of change for the Veteran community. Programs that UMNPA and Its Partner Operation Troop Appreciation (OTA) Facilitate:
"Active Duty Military Support Program" is the only one of its kind that provides items to soldiers across the globe on a "wish list" basis, with a special focus on those serving in Afghanistan, the Middle East, and Africa. Every
package is tailored to meet the particular needs of each unit, allowing these gifts to be customizable to the individuals of whom they are being sent.
"Welcome Home Program" majorly defrays the cost of moving into a new home by providing Veterans with essential household items that they would not otherwise have access to. This may range from toiletry items to fully provided for bedroom sets.
A Message From UMNPA: United Mission for Nonprofits of America is dedicated to the military community both past and present who serve and sacrifice for our country. By providing them with rehabilitation services, housing assistance, and items that contribute to their morale and well-being as well as the much-needed assistance after they have sacrificed for our freedoms, we present a united front to our deployed military.
Veterans are out there dealing with both visible and invisible wounds and they desperately need help.
United Mission for Nonprofits of America has pledged to raise $200,000 to rehabilitate over 1,000 Veterans in 2017. 100% of all donations will directly fund the much-needed Rehabilitation Centers right here in Orange County California.
Below is a link to make a contribution. Let's not forget to thank a Veteran for their service, for their Sacrifice, and for your Freedom. UMNPA says "Thank you in advance for your kindness and generosity".
UMNPA joyfully accepts all donations. Anyone who is interested in volunteering opportunities inquire through our web page below. Together we can be the change we wish to see in the world. Assist us in the fight for our Veterans.
Click here and write a letter to a Veteran or an Active duty service member thanking them for their service. Letters boost morale and give a Veteran or Service Member in need a sense of hope in the world.
United Mission for Nonprofits of America
1933 South Broadway, Suite 1100
Los Angeles, CA 90007
1-800-808-5321