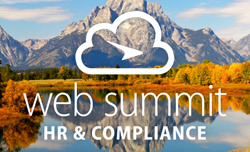 I have done training all over the country over the past 25+ years, and this, by far, has been the most informative and right on target.
CINCINNATI, OH (PRWEB) November 17, 2016
Human Capital Management company Paycor, held a free two-day Web Summit on November 9 and 10, 2016. The Web Summit offered sessions on critical topics for Human Resources (HR) professionals including: DOL Overtime changes, EEO-1 changes, the new I-9 form and HR trends.
Since inception in 2014, Paycor's annual Web Summit has continued to grow, with over 16,000 HR professionals registered for this year's event. The top attended session was, "The New I-9 Form: How to Avoid Costly Mistakes," which provided an in-depth review of each section of the I-9 Form to help organizations understand their compliance responsibilities. Popular attendee questions included proper procedures for filling out, storing, and correcting the Form I-9.
The Web Summit was originally created with the mission to keep HR professionals apprised of industry trends and compliance changes. By hosting the Summit online, attendees can choose which sessions fit their needs and interests to easily accommodate schedules. In addition, four of the webinars provided attendees with the opportunity to earn HRCI and SHRM credits, required to maintain HR certification.
Web Summit recordings are now available.
Supporting Quotes
"HR professionals today are under more pressure than ever," said Karen Crone, Chief Human Resources Officer of Paycor. "Compliance changes and multi-generational workforces have created a new dynamic in the workplace. Staying on top of these changes and trends with continued education is critical. We wanted to find a way to provide HR professionals with the education they need to stay informed and empowered, no matter their schedule or budget."
"I have attended all three days of the Paycor Web Summit," said Michelle Golloher, Sr. HR Consultant with Wolf Prairie. "I have done training all over the country over the past 25+ years, and this, by far, has been the most informative and right on target."
About Paycor
Paycor is a trusted partner to more than 31,000 small and medium-sized businesses. Known for delivering modern, intuitive recruiting, HR and payroll solutions, Paycor partners with businesses to optimize the management of their most valuable asset—their people. Paycor's personalized support and user-friendly technology ensure that key business processes, including recruiting, onboarding, reporting, timekeeping, compliance and payroll, run smoothly. Paycor's people operations solutions are recommended by today's most innovative brokers, bankers, and CPAs. Learn how Paycor can transform your business by starting a conversation at http://www.paycor.com.
FOR MORE INFORMATION
Katy Bunn
Kbunn(at)paycor.com
513.307.6392
MEDIA CONTACT
Tanaya Lukaszewski
paycor(at)kulesafaul.com
916.712.3791
###