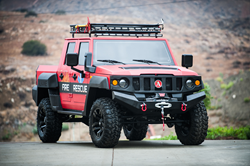 Myrtle Beach, South Carolina (PRWEB) November 17, 2016
Following the wildly successful launch of the DOMINATOR at SEMA 2016, the Alkane Truck Company is looking to increase the number of dealer representatives across North America. The ultimate endurance vehicle, designed with military DNA for both on- and off-road applications, was introduced at the prestigious Specialty Equipment Manufacturer Association show in Las Vegas earlier this month.
More than 160,000 attendees hailed the DOMINATOR's off-road Fire/Rescue concept truck's North American debut at SEMA 2016. The mammoth fire/rescue concept is armored with LINE-X state-of-the-art product, ULTRA, and makes a bold statement on behalf of America's first responders with striking, color-matched red custom artwork and smooth matte finish. The DOMINATOR is designed to tackle wild land firefighting in the most rugged terrain including wetland conditions - capable of navigating in up to 40 inches of water without the use of a snorkel.
Industry-leading, custom builder, Kenny Pfitzer, of Zero to 60 Designs, added the ultimate finishing touches to this rolling fortress with custom-fabricated bumpers and roof rack – in addition to installing custom tires, wheels and lighting.
"This vehicle truly is something that has to be seen to be believed!" Pfitzer gushed. "I've worked on a lot of different vehicles, but this one was different from any other! I cannot wait to see these beasts driving around town!"
Show attendee, Ben Martin, from North Carolina, said, "I had heard and seen some rumblings about this truck online, but I was not prepared for how massive it is in person! It's amazing and I want to drive it!"
Each DOMINATOR is equipped with a 6.0L – 345hp – V8 engine, paired with a 6-speed automatic transmission generating 373 lbs-feet of torque at 4,400 rpm. Perhaps the most unique aspect of the DOMINATOR: this off-road giant offers the option of gasoline, liquid propane or compressed natural gas propulsion. Not designed for mass production, each base-model DOMINATOR can be quickly custom crafted to suit its unique end user.
For more information, visit alkanedominator.com. Dealerships interested in securing exclusive territories are encouraged to contact Executive Director of Sales and Marketing, Eric S. Moore at eric(at)alkanetruckcompany(dot)com or 843-839-0109.
##
About Alkane Truck Company - Based in Myrtle Beach, SC, Alkane Truck Company is influencing the future of trucking and off-road vehicles with its three products: the Dominator™, humvee-style off-road, all-terrain vehicle, a class 7 truck and a class 8, 18-wheeler tractor. The company is a leader in the development of alternative fueled vehicles. More information can be found at http://www.alkanedominator.com