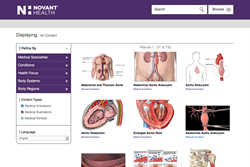 We have enjoyed collaborating with Nucleus and have found their medical animations and illustrations to be very effective
Atlanta, GA (PRWEB) November 17, 2016
Novant Health and Nucleus Medical Media were recognized for their outstanding website and digital communications during the Twentieth Annual Healthcare Internet Conference (HCIC). A website created in partnership between Novant and Nucleus (http://novant.nucleushealth.com) received a Silver award in the Best Rich Media for a Healthcare System category, where websites were judged by the quality of their media content.
The Novant website showcases over 260 of Nucleus' medical animations and over 470 of Nucleus' medical illustrations. Novant uses the animations and illustrations for patient education purposes.
"We have enjoyed collaborating with Nucleus and have found their medical animations and illustrations to be very effective," said Marci Leonard, Manager of Corporate Patient Information at Novant Health. "Nucleus supplied animations for several categories, including pneumonia, heart failure, joint replacement, and Women's Services. Team members and patients have been very receptive to Nucleus' animations. Patients especially enjoy the clear, realistic 3D animations, which help them to better understand medical procedures and conditions."
"It's an honor that our visual content was recognized," said Ron Collins, Nucleus CEO and co-founder. "Rich media, like the animations we create and license, is becoming increasingly important within the healthcare industry for both patient education and marketing initiatives."
A total of 116 healthcare industry leaders judged the eHealthcare Leadership Award entries. Nucleus won two eHealthcare Leadership awards last year: Platinum for Nucleus' Animation Library website and Gold for AstraZeneca's Health Journey Support website (http://www.healthjourneysupport.com), both in the Best Rich Media category.
About Nucleus Medical Media
Founded in 1997, Nucleus Medical Media, Inc. is an award-winning creator and licensor of medical illustrations, medical animations, and interactive multimedia for the publishing, legal, healthcare, entertainment, pharmaceutical, medical device, and academic markets. Additional information can be found at http://www.nucleushealth.com.