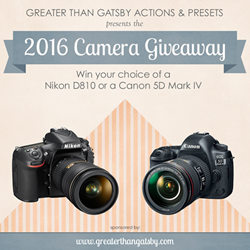 Dallas, Texas (PRWEB) November 18, 2016
It's that time again! The most favorite part of the year for the biggest giveaway, for a top of the line Professional Camera Body. Thinking about a new camera purchase or top-of-the-line DSLR used by the pros? Greater Than Gatsby is giving away a camera just in time for Christmas.
Greater Than Gatsby (http://www.greaterthangatsby.com), a market leader in digital photography editing tools, announces the Annual Camera Giveaway. The winner gets to choose between a Canon 5dMKIV or Nikon D810. Greater Than Gatsby encourages those currently involved in photography or interested in getting into photography to enter the giveaway and share the opportunity with others.
"Greater Than Gatsby just loves this time of year because of the holidays, and it's the Annual Camera Giveaway and customers get really excited," said Joshua Hohweiler, CEO and Founder of Greater Than Gatsby, LLC, and Dallas-based photographer. "It's really exciting especially this year because there are two new models in the mix with the Mark IV and D810. Someone is going to score! Greater Than Gastby couldn't be happier about that opportunity for customers. To top it off, since last Black Friday a year ago, 3 new cutting-edge Collections have been added to the store, that according to customers have been the best releases yet. The Newborn II Photoshop Actions launched in March, the Innocence for Lightroom Presets launched in June and The Innocence II Photoshop Actions launched in October. Customers have no shortage of choices to fill different needs and there is more in the works for 2017, so stay tuned!"
To enter the giveaway, entrants must do the following:
1) Follow The Greater Than Gatsby Instagram page @gatsbyactions
2) Enter on the Camera Giveaway page
The giveaway ends Sunday December 18th, 2016 at 4:00pm CST. The winner will be announced on our Facebook and Instagram pages.