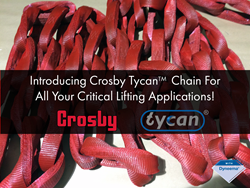 Tulsa, OK (PRWEB) November 21, 2016
Crosby Introduces the Lifting Chain of the Future
Introducing Crosby Tycan™ chain for all your critical lifting applications.
Crosby Tycan™ has revolutionized the lashing market since its introduction. And now, with the recent Technical Qualification Certificate from DNV GL, Crosby is pleased to announce that Crosby Tycan™, made with Dyneema®, will be available for all your critical lifting applications. Crosby Tycan™ is a perfect alternative for your steel chain and wire rope slings. This new design boasts a variety of advantages over steel chain, including:

Lighter – Crosby Tycan™ chain is up to eight times lighter than steel chain – light enough for one person to work with all day long.
Strong – Crosby Tycan™ is constructed entirely of DSM's high performance material, Dyneema®, an Ultra-High Molecular Weight Polyethylene regarded as the world's strongest man-made synthetic fiber.
More Durable – Crosby Tycan™ is extremely resistant to abrasions and cuts. Oil, dirt, diesel, grease, non-oxidizing chemicals, UV, etc., all have no impact on the capacity or functionality. The chain's design protects more of the fibers than standard high-performance sling configurations. In fact, if you need to clean it, simply put it in a washing machine.
Less Damaging – It's gentler on equipment, environment, and personnel.
Safer – The light weight, strength and softness of Crosby Tycan™ all contribute to reduced accidents and damages for both personnel and loads.
Environmentally Friendly – The manufacturing process for Crosby Tycan™ is gentler on the environment than traditional manufacturing methods involved in the creation of steel chain.
Non-Conductive – Safer than steel chain for use in a variety of applications and environments.
Waterproof – Ideal for marine applications, Crosby Tycan™ won't rust or be affected by harsh subsea environments. Because it does not absorb water, Tycan® will actually float.
Quieter – Crosby Tycan™ is virtually silent compared to the loud clanking of steel chain.
Adjustable – Because its construction is similar to steel chain, its length can be adjusted, just as an adjustable chain sling.
Customers from around the world are looking at alternatives for their steel chains and wire rope slings and have found Crosby Tycan™ to be a great solution. Mammoet, who conducted the lifting field trials, has already ordered Crosby Tycan™ for lifting. "We are excited to be the first customer to use the new Crosby Tycan™ for lifting. We pride ourselves by being an innovative company who uses the latest technology," said Brian Steentjes, Manager Auxiliary Equipment at Mammoet Europe, Schiedam.
Why not try Crosby Tycan™? Crosby Tycan's™ light weight, lifting strength, softness and quietness characteristics all contribute to reducing accidents, damage and rigging efforts for crew and cargo at your job site.
Learn more about Crosby Tycan™ chain at tycan.thecrosbygroup.com. Or visit Crosby's booth at the upcoming Liftex show, November 23-25, where Crosby will be showcasing the new Crosby Tycan™ lifting chain.
Crosby Tycan® lifting and lashing chains will be available in Q1 2017.
About Crosby
Crosby is a leading manufacturer of premium accessories used in lifting, rigging and securement applications. Based in the US, the company has the reputation around the world for providing a broad range of products suitable for the most demanding of operating conditions with uncompromising quality. Products include wire rope clips, hooks, shackles, lifting clamps, hoist rings, overhaul balls, snatch blocks, crane blocks and sheaves. Crosby also provides a "world class" training program, focusing on the proper application of Crosby Products.
About Load Solutions
Load Solutions AS provides cargo handling solutions to the transport industry across the globe. Our system, Tycan®, has been created from the world's strongest high performance fiber, Dyneema® and is a link chain that has all the performance and flexibility of steel chain but is a fraction of the weight. It is extremely safe to use, non-corrosive, non-conductive and completely waterproof. In fact, it even floats! By using Tycan® our clients achieve greater productivity, reduced costs and a safer working environment for their staff.
About DSM Dyneema®
DSM Dyneema® is the inventor and manufacturer of Ultra High Molecular Weight PolyEthylene (UHMWPE) fiber branded as Dyneema®, the world's strongest fiber™. Dyneema® offers maximum strength combined with minimum weight. It is up to 15 times stronger than quality steel and up to 40% stronger than aramid fibers, both on weight for weight basis. Dyneema® fiber floats on water and is extremely durable and resistant to moisture, UV light and chemicals. The applications are therefore more or less unlimited. Dyneema® is an important component in ropes, cables and nets in the fishing, shipping and offshore industries. Dyneema® is also used in safety gloves for the metalworking industry and in fine yarns for applications in the medical sector. In addition, Dyneema® is also used in bullet resistant armor and clothing for police and military personnel. Furthermore, the new generation Dyneema® Fabrics offer next level innovations in denim, apparel, footwear, sports equipment and lightweight outdoor products and accessories. Further information on DSM Dyneema® is available at http://www.dyneema.com. Dyneema® and Dyneema®, the world's strongest fiber(TM) are trademarks of DSM. Use of these trademarks is prohibited unless strictly authorized.