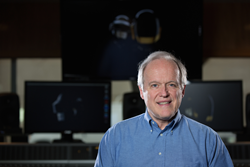 If you're not influenced by Marvin Gaye, there must be something wrong with you.
Nashville, TN (PRWEB) November 18, 2016
Dr. E. Michael Harrington, Music Business Program Chairperson at SAE Institute Nashville, was a featured speaker at The Harvard University Law School in Cambridge, Massachusetts, on November 3, 2016, where he shared his insider exclusive and expertise into complex copyright litigation. The event was sponsored and organized by Harvard Law School's Recording Artists Project (RAP).
A nationally recognized expert on music copyright law, Dr. Harrington's discussion included his work in the recent appeal of the infamous "Blurred Lines" decision involving Robin Thicke, Pharrell Williams, and Marvin Gaye (2013). Leveraging his plethora of experience as a musicology expert witness in several high profile copyright lawsuits, Harrington discussed and demonstrated key areas of the "Blurred Lines" case including what went right and wrong in the decision.
During his exciting and informative talk, Dr. Harrington also used audio and video samples to demonstrate his use of prior musical sources to stop two music copyright infringement cases, which included Snoop Dogg to Debussy and Mozart, Alan Jackson, Michael Jackson, Faith Hill, Buena Vista Social Club, and dozens more.
Dr. Harrington's writings and interviews are twice used as authorities in the "The Amicus Brief" filed by 212 songwriters, composers, and musicians with the 9th Circuit Court of Appeals in support of the bid by Williams, Thicke, and rapper T.I. in an effort to overturn the $5.3 million final judgment. He is one of the musicologists supporting the plaintiffs in in the appeal.
"If you're not influenced by Marvin Gaye, there must be something wrong with you," says Dr. E. Michael Harrington. "He could just as well be talking about James Brown, Chuck Berry, the Beatles, or Michael Jackson – all of them a product of their own influences. Copyright law should make musical creativity flourish, not stifle" (The Amicus Brief).
Harrington's opinion on the "Blurred Lines" verdict has been sought out and shared by several media outlets including USA Today, ABC News, Daily Mail, WSMV NBC 4 Nashville, and Bloomberg Podcast.
"This is the worst decision, just crazy! If this were to become a standard, it's going to be one of the greatest growth industries of all time, suing people who sound like someone else," says Harrington (USA Today).
Dr. E. Michael Harrington, CEO of E. Michael Music, is a musicology and copyright expert. Dr. Harrington's diverse resume also includes:

Lecturing at Harvard Law School, George Washington University Law School, Brooklyn Law, Loyola University Law School, Cardozo Law School, Boston College Law School, and more.
Acting as a consultant and expert witness in music copyright matters involving director Steven Spielberg, Mark Burnett, the Dixie Chicks, Woody Guthrie, Steve Perry, Keith Urban, HBO, Ne-Yo, T-Pain, T. I., Akon, Snoop Dogg, Collin Raye, Tupac Shakur, Lady Gaga, George Clinton, Mariah Carey, DJ Danger Mouse, Samsung, AT&T, Avril Lavigne, Britney Spears, Rascal Flatts, and many others.
Is an advisory board member, the Future of Music Coalition and the Creators Freedom Project, and member of Leadership Music.
Dr. E. Michael Harrington's perspectives and analyses on copyright legal issues have been featured in several media outlets including the New York Times, TIME Magazine, the Huffington Post, Rolling Stone Magazine, NBC's "TODAY Show," CNN, Forbes, and other leading media outlets.
About SAE Institute
SAE Institute provides aspiring creative media professionals with a foundation of practical theory and valuable hands-on training in their chosen areas of concentration. Under the guidance of industry-experienced faculty, students gain the essential experience they need for entry-level jobs in the creative media industry. Students are supported in their job searches by SAE's international network of alumni, many of whom are leaders in the music, film, game arts, and live performance arenas. SAE Institute offers programs in Audio Technology in seven US campuses, along with a Music Business program at select locations, all fully accredited and focused on preparing students for employment upon graduation. Bachelor's Degree programs in Animation & Visual Effects, Digital Filmmaking, Game Art & Design, Interactive Audio, and Sound Arts are available at SAE Institute San Jose and SAE Expression College in the San Francisco Bay Area, formerly Ex'pression College. SAE Institute Group, Inc. is a part of Navitas LTD. Learn more at usa.sae.edu.
About Navitas
Navitas is an Australian global education leader, providing pre-university and university programs, English language courses, migrant education and settlement services, creative media education, student recruitment, professional development, and corporate training services to more than 80,000 students across a network of over 120 colleges and campuses in 31 countries. Learn more at Navitas.com.