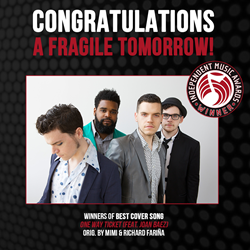 "…Baez and the brothers harmonize elegantly...a gorgeous and eccentric tribute." -- Consequence of Sound
New York, NY (PRWEB) November 18, 2016
Power-pop combo A Fragile Tomorrow took home the Best Cover Song award at the 15th annual Independent Music Awards on Saturday, November 12, held at Lincoln Center.  
The Charleston, SC natives' inventive version of the song 'One Way Ticket' was recorded with legendary folk pioneer Joan Baez, whose own sister Mimi Fariña originally co-wrote the song with her husband/musical partner Richard Fariña. But the familial connections didn't stop there, as the late Richard Fariña was the cousin of Sean, Dom and Brendan Kelly of A Fragile Tomorrow. Baez and the band skillfully re-imagined the track and crafted a lush, raucous, alt-folk romp. Also making an appearance on mandolin and banjo were good friends and tour mates, Indigo Girls (Amy Ray, Emily Saliers), who have nothing but the highest praise for the young band.
"I'm always reminded how refreshing it is to be around AFT," Emily Sailer told Consequence of Sound. "These guys love the true beauty of music, and it shines through in projects like this community rendition of 'One Way Ticket.'" Amy Ray concluded that "…'One Way Ticket' was a cross-generational psychedelic experience with [a] band that I look to for inspiration and evolution."
Baez agreed, adding "Recording this song with A Fragile Tomorrow was a delightful way to honor and carry on Richard and Mimi's musical legacy."
The song appears as a bonus track on A Fragile Tomorrow's critically acclaimed 2015 album, Make Me Over, a bold exploration into the realms of layered, sophisticated, hauntingly gorgeous power-pop.
After spending much of 2016 touring in support of Make Me Over, band members Dom and Sean Kelly will both release solo albums on MPress Records in 2017.
What People Are Saying
"…Baez and the brothers harmonize elegantly...a gorgeous and eccentric tribute."
-- Consequence of Sound
"Whether it's the devastating, autobiographical ballad…timeless, summery guitar pop…or the country/rock chug…it's obvious that these guys are the real deal and bring hook after hook to the party."
-- Goldmine Magazine
"A Fragile Tomorrow combines a frisky pop music sound with a post-Beck DIY eclecticism… redefines power pop for the 21st century."
-- Audiophile
About A Fragile Tomorrow
Originally formed in 2003 by brothers Sean and Dominic Kelly (both of whom live with cerebral palsy) and their brother Brendan, the final lineup solidified with the addition of Shaun Rhoades in 2006. Since then, A Fragile Tomorrow has produced four self-released studio albums as well as a number of singles and EPs. Following the release of 2013's Mitch Easter-produced Be Nice Be Careful, the band signed with New York-based label MPress Records.
2015 saw the label debut of their critically acclaimed, fifth studio album Make Me Over. Dressed in layers of dense guitars and harmonies, Make Me Over takes the mystery of rock n' roll androgyny and combines it with songs of accessible complexity.
Make Me Over followed years of touring with such artists as Matthew Sweet, Toad The Wet Sprocket, The Bangles, Indigo Girls, K's Choice, Antigone Rising and more. 2017 promises plenty of new music from members of the band, via solo debut releases from both Dom and Sean Kelly.