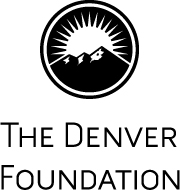 Denver, CO (PRWEB) November 17, 2016
The Denver Foundation is honored to announce Rosalind "Bee" Harris, Ginnie Logan and Dr. Lydia Prado as winners of the 2016 Community Leadership Awards. The awards were presented during a reception on Wednesday, November 2 at The Denver Foundation.
Rosalind "Bee" Harris, editor of Denver Urban Spectrum newspaper, received the ninth annual John Parr and Sandy Widener Civic Leadership Award. Founded in 1987, Denver Urban Spectrum has been "spreading the news about people of color" for nearly thirty years. Harris is a trailblazer for African American- and women-owned businesses and has received countless awards and recognitions for her commitment, including the MLK Humanitarian Award and the Lifetime Achievement Award from the Colorado Black Chamber of Commerce. Harris was bestowed with an Honorary Doctorate of Public Service from the Denver Institute of Urban Studies, and named one of the Top 25 Most Powerful Women in Denver by the Colorado Women's Chamber of Commerce in 2015.
The award was presented by David Miller, former Denver Foundation President and CEO, who had strong ties to both John Parr and Sandy Widener, for whom the award is named. The couple died tragically in a car crash in 2007 while traveling with daughters Chase and Katy. Only Katy survived.
"Bee was selected to receive the Parr-Widener Award because of the work she's done to lift up stories and shine the light on communities of color, and to mentor and train youth in journalism-related fields through the Urban Spectrum Youth Foundation," said Miller. "We especially felt awarding Bee was in the spirit of Sandy Widener, who was a gifted journalist who helped found Westword. With this award, we salute two pioneering women journalists in Metro Denver."
Ginnie Logan, founder of the Denver-based nonprofit Big Hair, Bigger Dreams, received the Hunt Emerging Leaders Award. A graduate of the University of Colorado-Boulder, Logan taught high school in Memphis with Teach for America. She moved on to become a Training Resource Manager and curriculum consultant for the New Teacher Project. She ended her career in education co-leading a middle school as an assistant principal at a Denver charter school.
"As an educator, Ginnie learned that significant learning experiences often happen outside of the school building," said Lauren Casteel, Executive Director of The Women's Foundation of Colorado and former Vice President at The Denver Foundation. Casteel presented Logan's award on behalf of Ambassador Swanee Hunt. "Ginnie sees the correlation between access to opportunity as a young person and achieving success as an adult."
Big Hair, Bigger Dreams is Logan's effort to complement, enhance, and support the good work that is already happening in the fields of mentorship and education reform. The nonprofit specifically addresses the unique challenges facing girls who live on the racial and economic margins of society.
Dr. Lydia Prado received the Swanee Hunt Individual Leadership Award, which recognizes those who have dedicated themselves to a lifetime of public service. Anna Jo Haynes, a former Denver Foundation Trustee and champion of education, presented the award on behalf of Ambassador Hunt.
Born on Los Angeles' East Side, Prado grew up feeling culturally enriched, speaking both English and Spanish, and thriving in a community where she was surrounded by many talented, creative, and resilient people. When she left to attend college, she was surprised to learn that the mainstream and academic view of her community was filtered through a lens of deficits rather than strengths. She earned her doctorate at the University of Denver and later served on its faculty.
As Vice President of Child and Family Services at the Mental Health Center of Denver, Dr. Prado weaves together evidence-based best practices with respect and understanding of diverse cultural strengths to develop more effective, holistic approaches to services. She directed the development of the new Dahlia Campus for Health and Well-Being which opened in February 2016.
"We honor Dr. Prado for the extraordinary work and community engagement she put into the development of the MHCD Dahlia Campus," said Haynes. "It's a beautiful, community-oriented place with something for everyone. Most important, it provides much-needed behavioral health services in a setting that reduces the stigma of mental health treatment. Thanks to Dr. Prado, what was once perceived as a deficit is now a strength."
Since 1996, The Denver Foundation has presented the Swanee Hunt Leadership Awards to community members who make major contributions to improving life for people in Metro Denver. Hunt, for whom the award is named, is a world-renowned philanthropist, author, and the former U.S. Ambassador to Austria. She now lives in Massachusetts but offers these awards as one of the ways she keeps ties with the Denver community, where her philanthropy began with The Hunt Alternatives Fund.
About The Denver Foundation
The Denver Foundation is a community foundation that inspires people and mobilizes resources to improve life in Metro Denver. In 2015, the Foundation and its donors awarded more than $68 million in grants. The Denver Foundation has three roles: stewarding an endowment to meet current and future needs for Metro Denver, working with community leaders to address the core challenges that face the community, and managing more than 1,000 charitable funds on behalf of individuals, families, and businesses. For more information, visit http://www.denverfoundation.org.