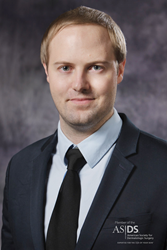 New Orleans, LA (PRWEB) November 19, 2016
H. William Higgins II, M.D., M.B.E., of Providence, Rhode Island, recently was recognized as an emerging leader of the American Society for Dermatologic Surgery with the ASDS Award for Outstanding Service.
The award is given annually to one member who has volunteered his or her time for multiple Society projects or initiatives. In an effort to recognize younger volunteers, award recipients must be in their first 10 years as an ASDS member.
The award was presented to Higgins during the 2016 ASDS Annual Meeting in New Orleans.
Dr. Higgins is a past Resident Representative to the ASDS Board of Directors. As a 2015-16 mentee in the ASDS Future Leaders Network program, Dr. Higgins spearheaded a guide on planning, designing and setting up a Mohs Micrographic Surgery lab.
Dr. Higgins also serves on various ASDS committees, including the Audit Committee, Tradeshow Work Group and Young Dermatologic Surgeons Work Group. He practices at University Dermatology in Providence, Rhode Island, where he is part of the Mohs surgery unit.
"William is an enthusiastic volunteer, always willing to give of his time to help further ASDS initiatives and projects," ASDS President Thomas E. Rohrer said. "He has been a dedicated member and established himself as a young leader in ASDS."