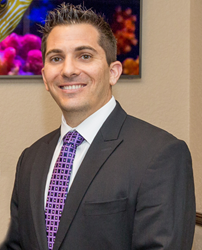 Lakewood Ranch, FL (PRWEB) November 18, 2016
Patients who are in need of a periodontist in Lakewood Ranch, FL can now see Dr. Justin Craighead for treatment, the newest member of Dr. Lindsay Eastman's modern dental practice. Dr. Craighead recently joined Dr. Eastman's team, and has already shown that he is a valuable asset to the practice. As the only dual specialist in periodontics and prosthodontics in the state of Florida, Dr. Craighead is an authority on implant dentistry and the treatment of advanced dental issues.
Dr. Craighead first graduated from the University of Florida where he received a Bachelor's of Science in Business Administration with a major in finance. Dr. Craighead then went on to complete 11 years of training in dentistry. He started with earning a Doctorate of Dental Medicine degree from Boston University, Goldman School of Dental Medicine. Afterwards, he attended an Advanced Education in General Dentistry residency at Boston University where he received the excellence award for best exemplifying excellence in character and clinical proficiency. Following his time in residency, he became the first in Florida to receive dual certificates in both Periodontics and Prosthodontics, after completing residencies in each specialty from the University of Florida College Of Dentistry. A Fellow in the International Congress of Oral Implantologists, Dr. Craighead is proud to add his achievements to the Eastman Team and hopes to provide many patients with high quality periodontal care in Lakewood Ranch, FL and Bradenton, FL.
Dr. Craighead values sharing his passion for dentistry and has been an instructor and co-developer of the advanced surgical curriculums in the Department of Restorative Science, Graduate Prosthodontics program at the University Of Florida College Of Dentistry and actively seeks volunteer work in his community. As both a prosthodontist and periodontist in Lakewood Ranch, FL and Bradenton, FL. Dr. Craighead offers unique insights into a variety of conditions, leading treatments and advanced treatment planning for each patient.
Patients who are interested in receiving care from an acclaimed prosthodontist and periodontist, including laser gum therapy, dental implants, gum recession treatment, and other treatments, are invited to contact Dr. Eastman's practice by calling 941-351-3000 or 941-792-3899.
About the Doctor
Lindsay B. Eastman, DDS, MS, PA is an experienced periodontist offering patients personalized dental care since 1980. Dr. Eastman has two practice locations in, Bradenton, FL and Lakewood Ranch, FL. Dr. Eastman received his Doctor of Dental Surgery degree from Loyola University Dental School where he completed his postgraduate training in Periodontics and his Masters of Science in Oral Biology. He received his Post-Graduate specialty training in the Surgical Placement of Dental Implants from Northwestern University Dental School, and completed Business Management Training from Pride Institute. He is part of only one percent of dental professionals providing the LANAP® FDA cleared laser procedure for gum disease and periodontal treatment. To learn more about Dr. Eastman, his associates and his dental services, visit his website at http://www.eastmanonline.com and call (941) 792-3899 for the Bradenton location or (941) 351-3000 for the Lakewood Ranch location for a personalized consultation.