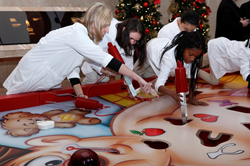 PITTSBURGH, PA (PRWEB) November 17, 2016
Continuing a long tradition of connecting with younger audiences to make science and medicine more approachable and understandable, Allegheny Health Network (AHN) surgeons today took on several local middle-school students at the classic board game Operation – on a scale of giant proportions.
Using foot-long tweezers, AHN orthopaedic surgeon Sam Akhavan, MD, and AHN neurosurgeon Jody Leonardo, MD, challenged a dozen 6th-grade students from Allegheny Traditional Academy on an 8-foot wide by 14-foot long version of the game set up in the lobby of Fifth Avenue Place in downtown Pittsburgh. The young student-surgeons wore their own AHN lab coats as they took turns trying to remove various maladies from the game's Cavity Sam figure, with errant attempts setting off the dreaded buzzer.
In recent years, AHN's outreach to younger students has included Allegheny General Hospital's incredibly successful Open Heart Surgery Observation Program, which since 2008 has welcomed more than 10,000 area students to watch open heart surgeries from an overhead viewing room. Also, AHN's medical experts and specialists teamed with the Carnegie Science Center to develop the recently opened BodyWorks exhibit that highlights in interactive ways how the brain, central nervous system, heart, lung, bones and muscle work. Now, this twist on the classic board game Operation allows AHN to connect with local kids in a memorable way. All of the students at today's launch event received the standard-sized version of the board game.
Today's friendly battle kicked off a month of events featuring the oversized game. It will be open for competition at Point State Park in downtown Pittsburgh for the city's annual Light-Up Night festivities (November 18), at Ross Park Mall over the busy Thanksgiving shopping weekend (November 24-27), at South Hills Village Mall (December 2-4), and at Jefferson Hospital's 4th-annual Light-Up Night event (December 7).
While the massive game is just for fun, the steady hands of AHN's surgeons performed more than 102,000 operations in the last year, using state-of-the-art surgical tools, including robotic-assisted techniques and minimally invasive procedures.
About Allegheny Health Network
Allegheny Health Network, part of Highmark Health, is an integrated healthcare delivery system serving the Western Pennsylvania region. The Network is comprised of eight hospitals, including its flagship academic medical center Allegheny General Hospital, Allegheny Valley Hospital, Canonsburg Hospital, Forbes Hospital, Jefferson Hospital, Saint Vincent Hospital, Westfield Memorial Hospital and West Penn Hospital; a research institute; Health + Wellness Pavilions; an employed physician organization, home and community based health services and a group purchasing organization. The Network employs approximately 17,000 people and has more than 2,400 physicians on its medical staff. The Network also serves as a clinical campus for Temple University School of Medicine, Drexel University College of Medicine and the Lake Erie College of Osteopathic Medicine.
###