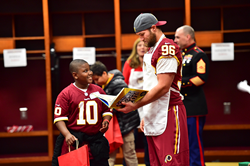 Loudon County, Va (PRWEB) November 21, 2016
Forty-five Mid-Atlantic Applebee's will host a Dine to Donate fundraiser Thanksgiving Day (Nov. 24) starting at 4:30 p.m. to benefit the Washington Redskins Charitable Foundation's 2016 Skins Santa Shoppe, an event that transforms the team's locker room into Santa's Workshop for more than 200 deserving elementary school students. During the Redskins vs. Cowboys game, 20 percent of all food sales will be donated to Skins Santa Shoppe.
The Dine to Donate is part of a five-week fundraising campaign hosted at all Potomac Family Dining Group-owned Applebee's locations in the greater D.C., Richmond and Shenandoah Valley areas. In addition to the Dine to Donate, now through Nov. 27, guests who visit a restaurant and purchase a pin-up for a $1 donation will receive a coupon for a free Brownie Bite or non-alcoholic beverage on their next visit. For a $5 donation, guests will receive a coupon for a free appetizer with $10 purchase.
The Washington Redskins Charitable Foundation and the U.S. Marine Corps will team up to host 200 elementary school students at the annual Skins Santa Shoppe at FedExField in December. Upon arrival, students will be served lunch by the Redskins players in attendance and Applebee's staff members. Following lunch, students will be divided into small groups where they will rotate through four fun, holiday activity stations, including Santa's Toy Shoppe where the Redskins locker room will be transformed into Santa's workshop, filled with presents and holiday cheer. Redskins players and Santa Claus will greet children and help them find their personalized and wrapped gift.
Skins Santa Shoppe is part of the Washington Redskins Charitable Foundation's "Season of Sharing" campaign, in which the team is embarking on several initiatives to give back to the community throughout the holiday season. For more information on the Washington Redskins Charitable Foundation's programs and events, or to donate, visit http://www.redskins.com/community, or follow the Foundation on Twitter at @RedskinsCR or Instagram at @RedskinsGiveBack.
ABOUT THE WASHINGTON REDSKINS CHARITABLE FOUNDATION: The Redskins Charitable Foundation is ever-present in the community, constantly working to achieve our mission to make a positive and measurable impact in the lives of children that need it most. Since Redskins owners Dan and Tanya Snyder created the Washington Redskins Charitable Foundation in 2000, we have given back nearly $20MM to the community and currently provide support and services to more than 190,000 individuals (mostly children) annually, focusing on supporting education, children's health and wellness and preparing them for their future. For more information on the Washington Redskins Charitable Foundation's programs and events or to donate, visit http://www.redskins.com/community or follow the Foundation on twitter at @RedskinsCR.
ABOUT THE REDSKINS: Headquartered at Inova Sports Performance Center at Redskins Park in Ashburn, Virginia, and owned by Daniel Snyder, the historic Washington Redskins Football Club has won five World Championship titles including the 1937 and 1942 National Football League Championship games, as well as Super Bowls XVII, XXII and XXVI. Founded in 1932 as the Boston Braves in Massachusetts, the team changed its name to the Redskins in 1933 and relocated to Washington, D.C., in 1937. Since then, the team has become one of the most recognizable professional sports franchises in history, featuring multiple Hall of Fame coaches, 19 members of the Pro Football Hall of Fame (with 10 others who also were Redskins) and becoming the first team in the NFL with an official marching band and fight song, "Hail to the Redskins." The Redskins have been owned by Dan Snyder since 1999, and beginning in 1997, began playing their home games at FedExField in Landover, Md.
THE APPLEBEE'S BRAND: Applebee's Grill & Bar brings together a lively bar & grill experience offering hand-crafted drinks and craveable, simple, American food with flare featuring vibrant flavors and real, fresh ingredients. All Applebee's restaurants are owned and operated by entrepreneurs dedicated to serving their communities and offering the best in food and drinks with neighborly, genuine service. With more than 2,000 locations in 49 states, Guam, Puerto Rico and 15 countries, Applebee's is one of the world's largest casual dining brands.
ABOUT POTOMAC FAMILY DINING GROUP: Potomac Family Dining Group (http://www.potomacdining.com) owns and operates 66 Applebee's Grill & Bar restaurants in the Mid-Atlantic region, including Virginia, Maryland, Pennsylvania, West Virginia and North Carolina. Headquartered outside of Washington, D.C., Potomac is focused on delivering a personalized, fun, friendly, carefree dining experience. Potomac Family Dining is also dedicated to ensuring that each location is reflective of its neighborhood and provides local residents, business professionals and travelers with a true neighborhood experience.