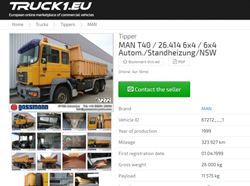 The growth scale is very impressive indeed. But there are certain reasons for such a result. Every year we observe a steady market growth of about 10%, despite all the breakdowns or rather mere speculations on this point.
(PRWEB UK) 22 November 2016
The global market for commercial trucks, which is the focus of Truck1's activity, is driven by business and industrial growth in general, and the rise in demand for transportation and logistics services in particular.
The latest trends suggest the advancement of an Asia-Pacific production hub for the automotive industry. It is led by shifting the manufacturing base to low-cost Asian countries. Consequently, the region benefits from active industrialization, development of road infrastructure, as well as steady rise in logistics, distribution and public transportation.
What concerns Europe is that the situation on the market hasn't changed dramatically since the ambiguous change in the political arena, caused by the so-called Brexit. The overall figures don't show any significant fall in post-referendum consumer confidence.
Another present-day fact is the undeniable status of the Internet as the literal lifeblood of the sales process. More and more consumers get used to buying and selling, for example, used tractor trucks, semi-trailers, delivery vans, construction machinery or agricultural equipment via PCs, tablets and smartphones. In this regard, the Truck1 representative, Alexandras Marchulenis, says: "The growth scale is very impressive indeed. But there are certain reasons for such a result. Every year we observe a steady market growth of about 10%, despite all the breakdowns or rather mere speculations on this point. We regularly invest in the project development and our efforts pay off. Besides, seasonality plays its significant role encouraging a busy time in the commercial vehicle market. So, evidently, it's not only about our own efforts. Nevertheless, we're not going to be satisfied with what we've already achieved. We'll keep on developing, entering new regional markets, launching new services, and doing other necessary things to strengthen our market position and be more noticeable for potential clients. Meanwhile, our prime concern is to provide our existing customers with really efficient service. We fight for it on a daily basis and will continue to do our best."