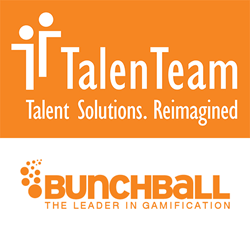 We are really excited about our partnership with Bunchball as they are the leader and innovator of engagement technology with industry specific trends.
(PRWEB UK) 21 November 2016
Today TalenTeam announce their business partnership with Bunchball, a leader in gamification. Gamification is the concept of applying game mechanics and game design techniques, such as points, levels and leader boards to engage and motivate people to achieve their goals. Businesses can use gamification to drive user behaviours that are advantageous to their brand and reward users who accomplish certain tasks.
TalenTeam have been servicing organisations across Europe, Middle East and Asia to help motivate, develop and engage employees and support Human Capital Management. TalenTeam aims to create lasting and sustainable business transformation and help their partners build their in-house innovation capabilities.
Bunchball combines behavioral economics, big data, and gamification to inspire loyalty that lasts. They empower businesses to motivate, engage, and generate true loyalty among customers, partners and employees. By using their gamification platform, their clients' customers, employees, online communities and partners do more, learn more, and share more in ways that matter to their business.
Sandeep Nahata, TalenTeam's Founder and CEO, comments: "We are really excited about our partnership with Bunchball as they are the leader and innovator of engagement technology powered by gamification. As Bunchball's only European partner, this collaboration combines our HCM expertise with state of the art technology with industry specific trends, support and implementation of gamification, within Europe. Since employee engagement is one of the major challenges faced by organisations today, TalenTeam and Bunchball help to reignite this within an organisation's workforce by advising best practice gamification strategies. We look forward to showcasing our partnership at the SuccessConnect event in Vienna this month."
About TalenTeam http://www.talenteam.com
TalenTeam is a consulting partner and value-added reseller of SAP Success Factors solutions, with some of the most extensive product knowledge in all of EMA. Based in London, the company was set up by Sandeep Nahata in 2012 and offers expertise across the entire SuccessFactors suite. Utilising its understanding of the SAP SuccessFactors solutions, its customers span a variety of industries, including banking, pharmaceuticals and aviation. The company implements systems for organisations of 500 to 300,00+ users.