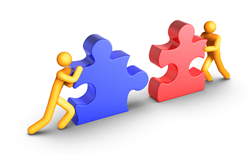 MSP/IT Advantage Program, a complete sales & marketing enablement package for MSPs and IT solution providers that included not just the software, but also sales & marketing training, coaching & even dedicated staff & concierge services
Pittsburgh, PA (PRWEB) November 22, 2016
Mindmatrix has introduced exclusive services to help companies enhance their partner engagement levels. The partner engagement package from Mindmatrix covers every aspect of "partner relationship management," including partner onboarding, training, coaching, and now offers a sales and marketing concierge service for channel partners. Mindmatrix, the leading channel, sales and marketing enablement solution provider first introduced this model of sales and marketing enablement for the MSP-IT market 3 years ago. After having helped hundreds of MSPs, VARs, Integrators, IT service providers and consultants boost their marketing and sales results, Mindmatrix has now introduced the same solution to other industry verticals.
Harbinder Khera, CEO, Mindmatrix says, "When we started working with MSPs, VARs, Integrators, IT service providers and consultants, we realized that providing them with a sales and marketing automation software alone was not enough. They also needed help with how to apply the software and use it to the fullest. They were also lost when it came to implementing sales and marketing best practices because they were too busy working in their business to deal with marketing. This prompted us to introduce the MSP-IT Advantage Program--a complete sales and marketing enablement package for MSPs and IT solution providers that included not just the software, but also sales and marketing training, coaching and even dedicated staff–concierge services–who ensured all sales and marketing tasks were implemented in a timely manner. This new model of enablement helped our client base enjoy sales and marketing success like never before. Now, we have taken these lessons and applied them to the larger sphere of enterprise markets. We believe that if companies want 100% partner engagement and adoption, they need to help their partners get things done.
Companies increasingly rely on the channel sales model to grow their business across the globe, but are often dissatisfied with the results. When channel partners work with multiple vendors the competition is intense and often it is the channel partner who chooses the winning brand. Mindmatrix's partner engagement services cover every aspect of the partner relationship including channel partner onboarding, training, coaching, sales and marketing concierge and support for channel partners, with in-depth partner activity monitoring and partner engagement tracking. In an era where channel partners are dealing with multiple products and multiple vendors, our partner engagement solution works at every level to ensure your brand emerges a winner by making it easy for your channel partners to successfully work for you."
One of the early adopters of Mindmatrix's partner engagement solutions is Crexendo--a leading, full-service cloud solutions provider that delivers critical voice and data technology infrastructure services to the start-up, SMB and small enterprise markets. Crexendo signed up with Mindmatrix for sales and marketing enablement of its 150+ direct and channel partners and has already seen a 30% increase in partner engagement, 75% improvement in asset consumption, and 15% rise in partner recruitment. Cassandra Anderson, Director of Channel Sales for Crexendo stated, "We know that to build long-lasting, profitable and engaged channel relationships and to dominate mindshare, we should be delivering overall business value and Mindmatrix's partner engagement solution helps us do that. It offers us ways to help our channel partners expand their business which spells success for us."