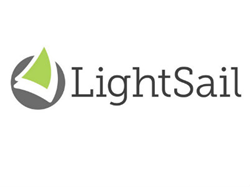 This partnership helps us provide high quality and effective literacy solutions to more school districts, ensuring all students have access to a deep library of age and reading-level appropriate reading choices, regardless of their differences.
NEW YORK, NY (PRWEB) November 21, 2016
LightSail Education, the leading education technology dedicated to turning students everywhere into readers, today announced a partnership with Troxell Communications to further integrate the digital literacy platform onto more Google Chromebooks in classrooms nationwide.
Chromebook is fast becoming the notebook of choice for classroom learning in the U.S., accounting for more than half of all K-12 notebook device sales in 2015, although due to budget constraints and other variables, many school districts choose to lease rather than purchase them. As an authorized reseller, Troxell provides an alternative leasing option and bundling option for more schools to provide access to top learning technology.
"With more than 10 million students and teachers using Chromebooks the growth opportunity for LightSail is exponential," said Gideon Stein, LightSail's Founder and CEO. "Ultimately our partnership with Troxell will help us provide the same high quality and effective literacy solution to so many more school districts, ensuring that all students have access to a deep library of age and reading-level appropriate reading choices, regardless of their differences. That is fundamental to providing an equal opportunity to learn, and ultimately love, to read."
LightSail's technology embeds assessments and progress monitoring in the text in a natural way. Students answer multiple-choice, written-response, and Cloze assessments throughout each text. As student ability grows, LightSail tracks achievement and updates the selections in each reader's library – that way, students are always reading just right texts and teachers have real-time access to track literacy growth and ability to intervene as needed. It is operating system agnostic and is also available on iPads and Android devices.
"We are pleased to work with LightSail and support classrooms in reading instruction," said Troxell spokesperson. "Together we can deliver best in class learning technology to schools that may not have otherwise considered an alternative to acquiring the hardware and software that this digital generation is expected have at their fingertips."
ABOUT LIGHTSAIL EDUCATION
LightSail is the adaptive reading platform that helps students, classrooms, and school districts exceed their literacy goals.
LightSail students get access to personalized libraries filled with thousands of engaging, just-right texts to choose from. Our award-winning solution embeds in-text assessments that motivate students to increase the volume of their reading along with the difficulty of the texts they choose.
LightSail teachers get real-time access to meaningful data about student reading behavior, comprehension, and growth so they can provide the necessary guidance to enhance learning and encourage a love of reading. For more information, visit http://lightsailed.com.
ABOUT TROXELL COMMUNICATIONS
With a foundation in the traditional AV space, Troxell offers a vast selection of products from leading manufacturers, and complete technology solutions including 1:1, collaborative Learning Spaces, Classroom Safety, Asset Management and Core as well as design, integration, installation, free product orientation, and professional development/training.
Troxell is the nation's leading end-to-end solution provider for education technology and collaborative solutions in K-12, higher education, government and corporate. With 65 offices nationwide, we combine large-scale purchasing power with the high-touch, consultative approach of a local specialist.