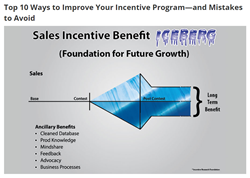 Activity reports and sales promotion results help you determine how successful your program is…The longer you operate your incentive program, the more data you collect to make it even better.
Atlanta, GA (PRWEB) November 23, 2016
What's the best way for flooring businesses to run their incentive programs? Steve Damerow, CEO of Atlanta-based incentive company Incentive Solutions, tackled this topic in a recent article published in Floor Trends magazine. The article, "Top 10 Ways to Improve Your Incentive Program—and Mistakes to Avoid," discusses channel incentives best practices that help floor businesses dodge the most common incentive program pain points.
A successful incentive program, Damerow says, begins with objectives and rules that are laid out transparently in the very beginning. "What, exactly, do you need to sell more of? High-margin items? Who do you want to sell more to? Dealers in a particular region, perhaps?... Lay out S.M.A.R.T (specific, measureable, attainable, relevant, timely) goals to reach a clear and informed objective."
The most important and often overlooked aspect of a channel incentives program is measurement of the program's ROI. However, eMarketer research indicates that 33% of B2B marketers do not measure the ROI of marketing efforts such as channel incentive programs. Contemporary incentive technology makes it easy to alleviate this missing link in the business operations chain and determine channel incentives ROI, Damerow says, "Examining program analytics such as engagement activity reports and sales promotion results will help you determine how successful your program is…The longer you operate your incentive program, the more data you can collect to make it even better."
Floor Trends, Incentive Solutions and other channel marketing advisers strive to bring B2B businesses actionable best practices. When organizations are equipped with industry-specific tactics, the entire economy benefits from more competitive markets, effective sales strategies and energized innovation.
About Incentive Solutions
Incentive Solutions, Inc. was founded in 1994 and is based in Atlanta, GA. Part of The Incentive Solutions Group of Companies, consisting of Incentive Solutions and Loyaltywork, Incentive Solutions offers online rewards, travel incentives and gift card reward programs. Since its creation, Incentive Solutions has been an innovator in the incentive industry by utilizing emerging online technologies that help companies increase sales, engage and motivate employees, encourage customer loyalty, create positive work environments, and enrich sales channel relationships.
Incentive Solutions
2299 Perimeter Park Drive, Suite 150
Atlanta, GA 30341
(770) 457-4597
1-866-567-7432